Fried Potatoes with Onions
by Editorial Staff
If you've made a potato salad but cooked too much of it, you can use it to your advantage. If you love potatoes, you will love the recipe for how to cook fried potatoes with onions.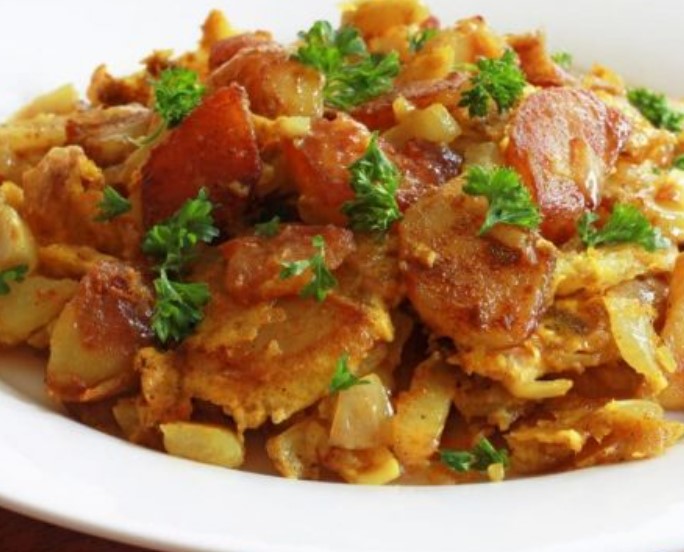 Cook: 40 mins
Servings: 3-4
Ingredients
Potatoes – 900 Grams
Onion – 1 Piece
Vegetable oil – 3 Tbsp. spoons
Salt, pepper – To taste
Curry – 1 Tbsp. the spoon
Eggs – 3 Pieces
Directions
Boil potatoes in their skins (if you have no leftovers), then cool and peel them, chop them coarsely so that they cool quickly.
Cut large pieces of potatoes into plates.
Heat a tablespoon of vegetable oil in a frying pan, in the meantime, dice the onion and place it on a heated surface, fry for 3-5 minutes and transfer to a plate.
Return the pan to the heat, add the remaining vegetable oil and heat it, place the potatoes.

Fry it for 5-7 minutes, then stir gently and fry until golden brown (7-10 minutes).
Return the onions to the skillet with the potatoes.
Stir, salt and pepper to taste, add curry.
In a bowl, beat the chicken eggs.
Pour the egg mixture into the skillet with the potatoes, cook for another 2-4 minutes.
Turn off the heat, transfer the dish to a plate and garnish with herbs. Serve it right away.
Bon appetit!
Also Like
Comments for "Fried Potatoes with Onions"