Fast Korean Carrots
by Editorial Staff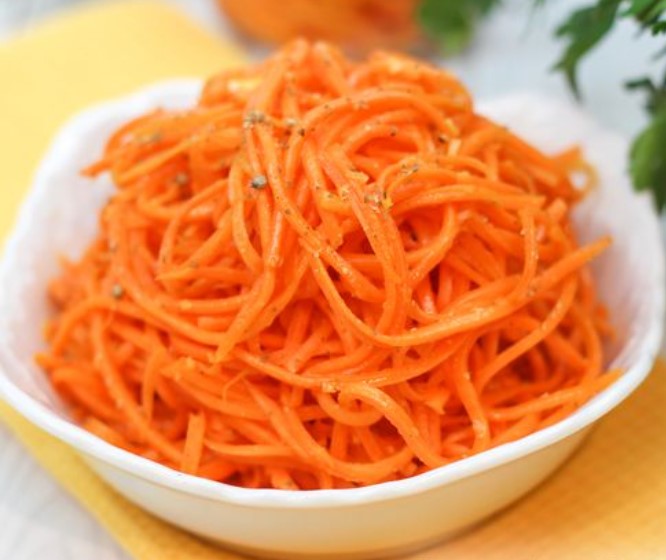 Very fast, simple and delicious! Korean-style carrots with the addition of only real aromatic spices!
Ingredients
Carrots – 1 kg
Sugar – 1 tbsp
Ground coriander – 1 teaspoon
Ground red hot pepper – 1/3 teaspoon (to taste)
Garlic – 3 cloves (to taste)
Salt – 1-1.5 teaspoon (to taste)
Ground black pepper – to taste
Vinegar essence 70% – 1 teaspoon
Vegetable oil – 40 ml (4 tablespoons)
Directions
We rub the peeled carrots on a special grater for Korean carrots.
Sprinkle salt on the carrots. Mix well with your hands. You can leave it for 15-20 minutes for the carrots to juice.
Drain the excess juice.
Add sugar, ground coriander, black pepper, garlic (pass through a press or grate on a fine grater) and 70% vinegar essence to the carrots. Pour hot red pepper in a slide. (Adjust the amount of garlic, pepper, salt and vinegar to your liking.)

Pour vegetable oil into a saucepan, put on the stove and bring to a boil.
Pour red hot peppers with hot oil, then it will not be so hot, and the spices will better give off their aroma.
Mix well the carrots with the spices with your hands. To taste, you can add soy sauce, paprika, sesame seeds and other spices.
Korean carrots can be eaten immediately, but it is better if they are marinated in the refrigerator. After 2-3 hours, Korean carrots will become even tastier.
Korean-style carrots are spicy, moderately spicy and very tasty!
Bon appetit everyone and enjoy cooking!
Also Like
Comments for "Fast Korean Carrots"