Korean Style Pickled Cabbage Rolls with Carrots
by Editorial Staff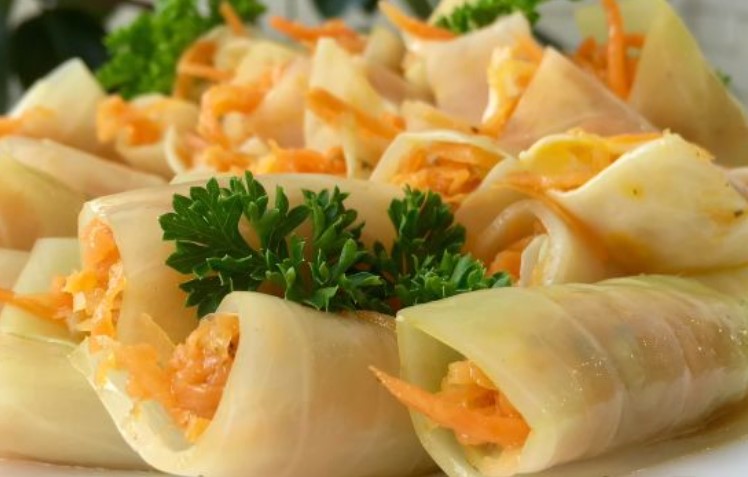 Unusual recipe – Korean style pickled cabbage rolls with carrots. A very tasty appetizer that is very easy to prepare.
Ingredients
White cabbage – 1 head
Salt – 2 teaspoon
Vegetable oil – 1 teaspoon
Vinegar – 2-3 teaspoon
For Korean carrots:
Carrots – 1.5-2 kg
Garlic – 1 head
Hot pepper – optional
Korean spices for carrots
Sunflower oil – 2 tbsp
Salt – 2 teaspoon
For the marinade:
Water – 1 liter
Sugar – 0.5 cups (90 g)
Vegetable oil – 0.5 cups (80 ml)
Salt – 2 tbsp
Bay leaf – 1 pc.
Vinegar 9% – 1/3 cup (65 ml)
Directions
Preparing the ingredients for making Korean-style pickled cabbage rolls with carrots.
Take the cabbage and cut off the edge where the stump is. Pour water into a large saucepan and lower the cabbage there. Add salt (2 teaspoons), vegetable oil (1 teaspoon) and vinegar (2-3 teaspoons) there. We mix. We cover with a lid and wait for the water to boil.
Shred carrots on a special Korean carrot grater (or on a regular coarse grater). We clean the garlic. Combine basil, coriander, red pepper and turmeric (can be replaced with Korean carrot seasoning).
When the cabbage has boiled, separate the leaves one at a time. Turn off the stove, cover with a lid and leave for 15 minutes.

Let's refine the hot pepper by removing the seeds. (If you don't like spicy, don't add pepper!)
We send pepper, a mixture of spices to the carrots and squeeze out the garlic. Add sunflower oil (2 tablespoons) and salt (2 tablespoons) to this. Stir with your hands and lightly press down so that the carrots let out the juice. (After that, be sure to try and add what you are missing to taste.)
We take out one cabbage leaf (we leave the rest under the lid) and cut out the inner coarse vein. If this is your first time, cut half of the sheet in half (I cut into 3 pieces). Leave 4-5 leaves intact.
At the narrowest edge, lay out the carrots and wrap them tightly.
We put stuffed cabbage rolls in a saucepan.
Cover the top with the remaining whole leaves of cabbage and tamp. We remove the sheets.
Fill the cabbage rolls with the juice that remained from the Korean carrots.
Add chopped bay leaf, sugar (0.5 cups), salt (2 tablespoons), vegetable oil (0.5 cups) and vinegar (1/3 cup) to a saucepan with hot water (1 l). Mix and dissolve salt and sugar in boiling water.
Fill cabbage rolls with brine. Cover with whole cabbage leaves.
Press down with a plate.
We put 1 more plate and weight on top. Leave for 2-4 hours at room temperature to cool the cabbage rolls. Then we put it in the refrigerator for a day.
Korean style pickled cabbage rolls with carrots are ready.

Korean style pickled cabbage rolls with carrots can be stored in the refrigerator for 2-2.5 weeks.
Bon Appetit everyone
Also Like
Comments for "Korean Style Pickled Cabbage Rolls with Carrots"