Korean Carrot Chops
by Editorial Staff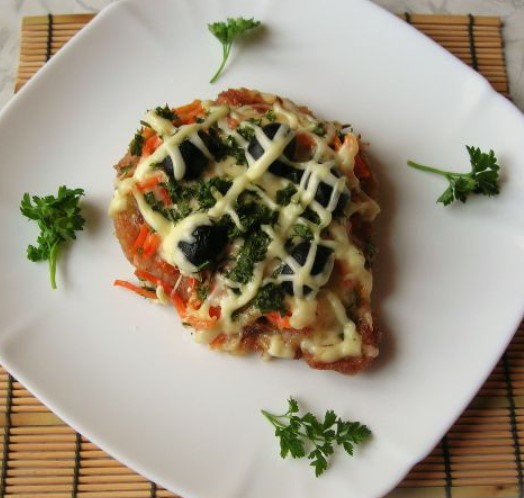 Chops are the most common and quickest dish for lunch, dinner or a festive meal. Korean carrot chops look very original and taste delicious !!
Cook: 40 mins
Serving: 5
Ingredients
Pork tenderloin – 500 g
Korean carrots – 150 g
Bulb onions – 2-3 pcs.
Hard cheese – 100 g
Mayonnaise – 50 g
Black olives (pitted) – 10-12 pcs.
Vegetable oil – 4 tbsp
Parsley – 30 g
Salt to taste
Directions
Cut the meat across the fibers, about 2-2.5 cm thick.
Beat off, salt and pepper.
Then fry the meat on 2 sides until cooked in vegetable oil.

Fry the onion in a pan until golden brown.
Put the fried meat on a sheet or a wide frying pan, previously oiled. On each piece of meat, lay fried onions, Korean carrots, cheese, grated on a coarse grater, and finely chopped parsley in layers.

Cut the olives in half and decorate the meat with them. On top we make a mesh of mayonnaise.
We put the chops with Korean carrots in the oven for 10-15 minutes at a temperature of 200 degrees. Serve hot Korean carrot chop
Good appetit!
Also Like
Comments for "Korean Carrot Chops"