Pickled Cauliflower with Carrots, Korean Style
by Editorial Staff
Recipe for an excellent cold cauliflower with carrots. Pickled cauliflower with carrots, garlic, parsley and coriander is not too hot and has a pleasant spicy aroma.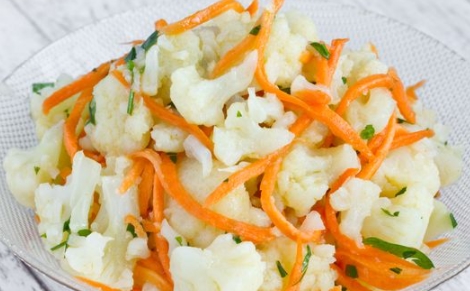 Servings: 4
Cook: 1 hour 25 mins
Ingredients
Cauliflower – 1 pc. (about 600 g)
Carrots – 1 pc. (about 100 g)
Garlic – 2 cloves
Fresh parsley – 15 g
Ground coriander – 1 teaspoon
Ground red pepper – 0.25 teaspoon
Lemon juice – 3 tbsp
Sunflower oil – 3 tbsp
Sugar – 1.5 tbsp
Salt to taste
Directions
Disassemble the cauliflower head into inflorescences.

In a saucepan, bring water to a boil. Add salt to taste. Dip cauliflower inflorescences into salted boiling water.

Boil the cauliflower for 5 minutes after boiling the water again. Pour 4-5 tablespoon into a separate saucepan. spoons of cabbage broth. Then discard the cabbage inflorescences in a colander and let the rest of the broth drain and cool the cabbage.
Pour 2 teaspoons of salt, sugar, lemon juice and sunflower oil into the cabbage broth that you cast.
Bring the marinade to a boil and simmer until the salt and sugar are dissolved.
Peel and grate the carrots for Korean carrots.
Rinse the parsley, dry and chop.
Combine cauliflower, carrots, and parsley in a bowl.
Peel the garlic, pass through a press and add to a bowl with cabbage, carrots and herbs.
Pour in red pepper and ground coriander.
Pour the marinade over the vegetables and stir.
Put the cauliflower in the marinade in the refrigerator for 1 hour to marinate. During this time, it is advisable to stir a couple of times so that the cabbage is marinated evenly since the marinade will be mainly at the bottom.

Serve the pickled cauliflower with carrots as a cold snack.
Bon Appetit!
Also Like
Comments for "Pickled Cauliflower with Carrots, Korean Style"