Korean Style Three-Bean Salad with Corn and Carrots
by Editorial Staff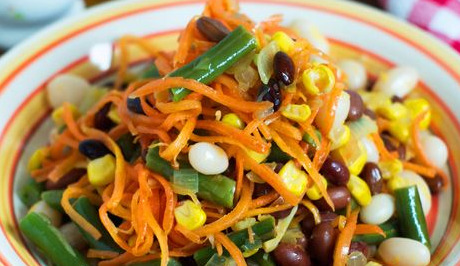 This bright and juicy salad is made from three types of beans (red, white, and green beans), which gives it a special nutritional value. In addition to beans, the salad includes sweetish canned corn and spicy Korean-style carrots. Such a successful combination of products gives the salad a wonderfully balanced taste.
Servings: 4
Ingredients
Green beans – 220 g
Red beans (dry) – 70 g
White beans (dry) – 70 g
Korean carrots – 150 g
Canned corn – 150 g
Bulb onions – 1 pc.
Garlic – 1 clove
Vegetable oil – 2 tbsp
Salt to taste
Ground black pepper – on the tip of a knife
Directions
Cover the red and white beans separately with cold water and leave for about 8 hours, preferably overnight. After a while, rinse the beans and pour clean water into separate saucepans. Put on fire, bring to a boil, remove the foam and cook over low heat for about 30-40 minutes. The beans should not be overcooked. Cool the cooked beans.
Defrost the green beans.
Heat vegetable oil in a skillet. Peel the onions and garlic, cut into small cubes, and place in the pan. Stir until transparent, about 5-7 minutes.
Add thawed green beans to the skillet with garlic and onion. Fry the onions with green beans over medium heat for 5-7 minutes, stirring occasionally. Remove the green beans fried with onions from the heat and cool to room temperature.
In a large bowl, combine cooled red and white beans, and add corn and Korean carrots. Stir.
Add the green beans, onion, and garlic.
Salt and pepper the salad, stir.
Enjoy your meal!
Also Like
Comments for "Korean Style Three-Bean Salad with Corn and Carrots"