Korean Style Puff Salad with Crab Sticks, Cheese and Carrots
by Editorial Staff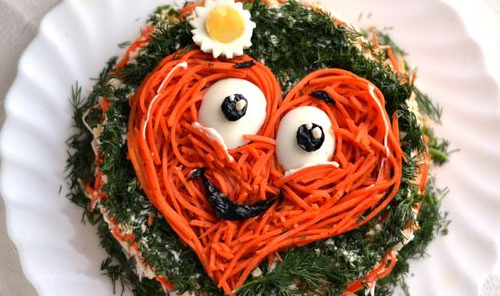 Make this delicious Korean style crab stick, cheese, and carrot salad for Valentine's Day. The dish, originally decorated with a smiling heart, will create a good mood for the whole holiday.
Cook: 40 minutes
Servings: 6
Ingredients
Crab sticks – 200 g
Korean carrots – 200 g
Hard cheese – 200 g
Eggs – 4 pcs.
Mayonnaise – 100 g
Fresh dill – 20 g
Salt to taste
Ground black pepper (if desired) – to taste
For decoration:
Quail eggs – 2 pcs.
Prunes – 1 pc.
Directions
Boil eggs hard-boiled (10 minutes after boiling). Cool boiled eggs in cold water, peel, and rub on a coarse grater.
Boil quail eggs hard-boiled for 5 minutes. Cool, clean and make salad dressings. Cut one quail egg in half – these will be "eyes", and cut a flower from the second egg. We also cut prunes into thin strips for decoration.
Defrost the crab sticks, remove the packaging film and rub the crab sticks on a coarse grater.
Grate the cheese on a medium grater.
We wash the dill, dry it and chop finely.
We place a detachable form or a culinary ring on a flat plate and begin to form a flaky salad. Put the eggs in the first layer, add a little salt (if desired, add ground pepper). Cover the egg layer with mayonnaise.
Put crab sticks on a layer of eggs.
Cover a layer of crab sticks with mayonnaise.
Put the Korean carrots in the next layer. We leave about 1/3 of the carrots for decoration.
Put the cheese on a layer of carrots and cover with mayonnaise.
Finely chop the greens and spread them on the cheese layer.
We take the longest strips of Korean carrots, layout the outlines of the heart with them, which we fill in with the remaining carrots. To decorate the heart, we use boiled quail eggs and prunes.
Enjoy your meal!
Also Like
Comments for "Korean Style Puff Salad with Crab Sticks, Cheese and Carrots"