Salad with Cauliflower, Crab Sticks, Carrots and Peas
by Editorial Staff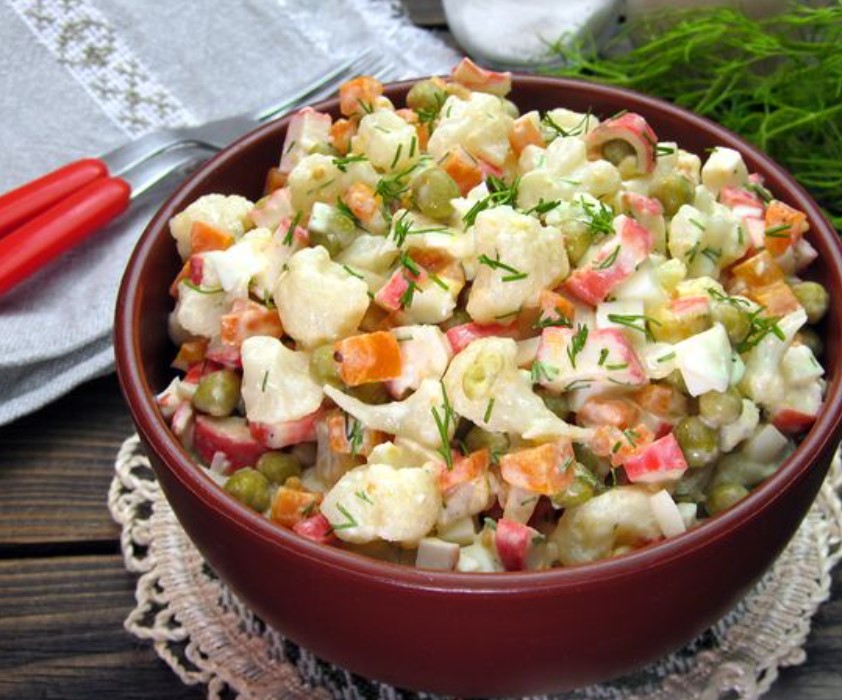 Light, tasty and juicy salad without mayonnaise. Salad dressing with cauliflower, crab sticks, carrots and canned green peas is sour cream with chopped dill and grain mustard. The salad has a mild, delicate taste, all its components are well felt and combined with each other.
Servings: 4
Ingredients
Cauliflower – 300 g
Crab sticks – 150 g
Canned green peas – 130 g
Carrots – 100 g
Eggs – 3 pcs.
Sour cream – 100 g
Granular mustard – 20 g
Fresh dill – 10 g
Ground allspice – to taste
Salt – 1/3 teaspoon or to taste
Directions
We prepare the necessary products.

Boil eggs for 10 minutes, hard-boiled, then cool in cold water.
Boil the carrots for about 20 minutes, until tender. We remove the carrots from the water and let them cool.
We disassemble the cauliflower into small inflorescences.
Bring a small amount of water to a boil and lower the cabbage inflorescences there.
Boil the cabbage for about 5 minutes, until tender. We put the finished cabbage in a colander.

Peel the cooled carrots and cut into small cubes.
Cut the crab sticks into cubes.
Peel and dice the eggs.
Preparing the dressing. To do this, add granular mustard to the sour cream.
Chop the dill and add it to the sour cream. A little dill can be left to decorate the salad.
Stir until smooth.
Add salt and pepper to the dressing.
Mix again.
Put crab sticks, cauliflower, carrots and eggs in a bowl.
Add green peas without liquid.
Add sour cream dressing to the salad.

Mix the salad with the dressing.
Top with cauliflower salad, crab sticks, carrots and canned green peas, sprinkle with the remaining dill.
Bon Appetit!
Also Like
Comments for "Salad with Cauliflower, Crab Sticks, Carrots and Peas"