Crab Stick Rolls
by Editorial Staff
Crab stick rolls – tender crab sticks and a delicious filling in the middle.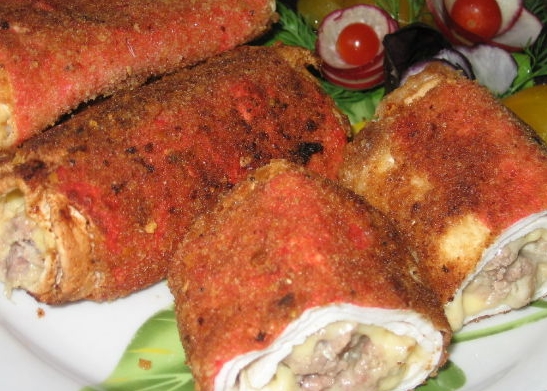 Servings: 6
Cook: 40 mins
Ingredients
Crab sticks (thick) – 6 pcs.
Mixed minced meat – 150 g
Fresh mushrooms (oyster mushrooms, champignons) – 150 g
Bulb onions – 1 pc.
Processed cheese (for toasts) – 6 plates
Bread crumbs – 4 tbsp
Flour – 2 tbsp
Eggs – 2 pcs.
Vegetable oil – 3 tbsp
Salt to taste
Ground black pepper – to taste
Directions
Peel the crab sticks completely from the packaging and immerse them in hot water for 1 minute.

Finely chop the onion and sauté (until soft), stirring occasionally, for 1 tablespoon. a spoonful of vegetable oil. Chop the mushrooms finely and fry them with the onion for 3 minutes.
Add minced meat, salt, pepper, and, stirring, fry everything together for 7-10 minutes.
Beat 1 egg and pour into the minced meat with mushrooms and onions. Add 1 tablespoon. a spoonful of crackers. Mix everything well. The filling is ready.
Unfold the crab stick, put a slab of cheese on the edge, and on it – the filling of meat and mushrooms. Wrap in a roll.
Dip the finished crab rolls in flour, beaten egg, and crackers.
Fry the rolls on all sides in vegetable oil until golden brown.
You can boil rice to rolls from crab sticks, make a salad of fresh vegetables.

Ready-made rolls from crab sticks.
Enjoy your meal!
Also Like
Comments for "Crab Stick Rolls"