Egg Roll with Crab Sticks, Cheese and Green Onions
by Editorial Staff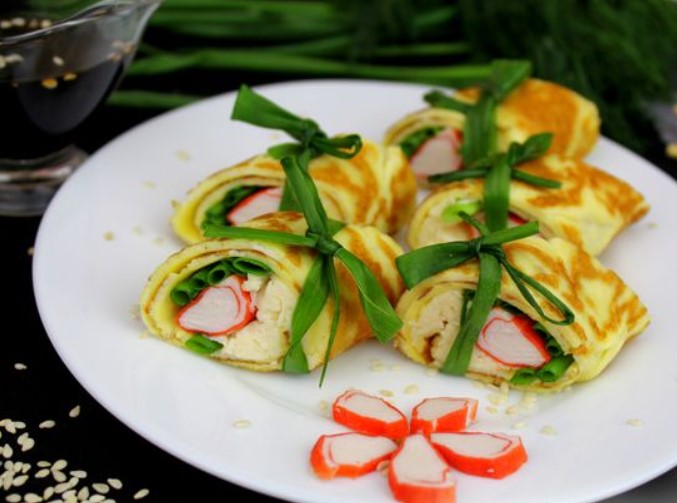 Such an elegant egg roll stuffed with crab sticks, grated processed cheese and green onions, even serve it on a festive table, but it will be eaten with pleasure at breakfast. The roll is obtained with a very delicate taste, which is diluted with a spicy speck of green onions.
Ingredients
Eggs – 2 pcs.
Crab sticks – 2-3 pcs.
Milk – 50 ml
Butter – 15 g
Processed cheese – 30 g
Garlic – 1 clove
Green onions – 4 pcs.
Salt – 1 pinch
Ground black pepper – on the tip of a knife
Vegetable oil (for frying) – 1 tbsp
Directions
Prepare all required ingredients.

Grate the melted cheese on a fine grater.
Peel the garlic, squeeze through a press.
Mix grated cheese with garlic.
Melt the butter in a water bath (or in another convenient way), not letting it boil.
Allow the melted butter to cool slightly.
Combine eggs, milk, melted and already cooled butter, salt and black pepper in a deep container.
Stir with a fork until smooth.
Heat a frying pan over high heat and brush with vegetable oil. Reduce fire to medium. Pour the egg mixture into the pan and cover. Fry the pancake for a couple of minutes to set the egg mass. It is important not to overdry the pancake, it must remain elastic.
Cover the board or just the work surface with cling film. Transfer the egg pancake to the film with the fried side down.
Unpack the crab sticks. Rinse green onions, dry and cut off the white parts. Set aside 3 onion feathers for decoration.
Place crab sticks in a row on the edge of the pancake. Arrange the green onion feathers along the crab sticks. Sprinkle with grated cheese and garlic on top.

Helping yourself with the film, roll the spring roll into a tight roll.
Cut the egg roll with crab sticks, cheese and green onions diagonally in 2-2.5 cm portions.
Cut the remaining green onion feathers in half lengthwise with scissors to form thin ribbons. Tying the rolls with the resulting "ribbons" is just an element of decor, it is not necessary to do this at all, you can decorate it at your discretion. You can serve such rolls without additions, but in our family it is customary to dip them in soy sauce and sprinkle with sesame seeds.

Enjoy your meal!
Also Like
Comments for "Egg Roll with Crab Sticks, Cheese and Green Onions"