Salad with Fried Crab Sticks, Mushrooms and Eggs
by Editorial Staff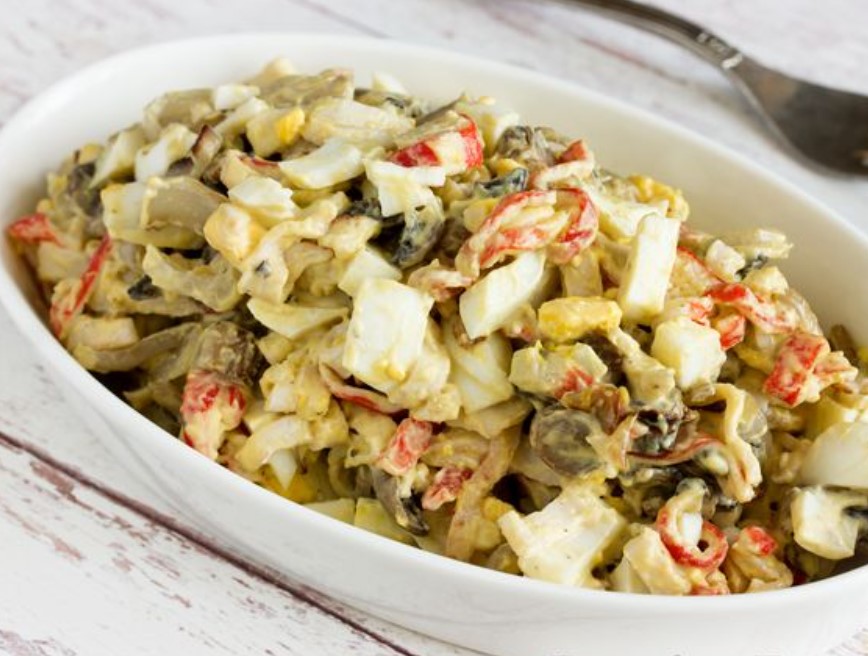 The recipe for the original crab salad with mushrooms, onions and eggs. The highlight of this salad is the crab sticks, which must first be fried. Due to heat treatment, crab sticks acquire a richer aroma and taste. The salad turns out to be very tasty and unusual.
Cook: 25 mins
Servings: 2
Ingredients
Crab sticks – 200 g
Champignon mushrooms – 100 g
Eggs – 2 pcs.
Bulb onions – 0.5 pcs.
Sunflower oil – 40 ml
Mayonnaise – 1.5-2 tbsp
Salt to taste
Ground black pepper – to taste
Directions
Prepare all the food you need.

Peel the crab sticks from the packaging material and cut into small pieces.
Heat the sunflower oil in a skillet. Place the crab sticks in the skillet.
Fry the crab sticks over medium heat, stirring occasionally, until they are partially or completely set into ribbons. Transfer the sautéed crab sticks from the skillet to a plate and leave to cool.
Now prepare the mushrooms. Remove the peel from the champignon caps, clean off the dirt from the legs. Separate the legs from the hats. Cut the mushroom caps into slices. Cut the legs into circles.
Peel the onion and cut into half rings.
Heat the sunflower oil in a skillet. Place the mushrooms and onions in the pan.
Fry the mushrooms and onions over high heat for about 3-4 minutes, stirring occasionally. Season the mushrooms with a little salt. Transfer the sautéed mushrooms and onions to a plate and leave to cool.
Boil eggs hard-boiled (10 minutes after boiling water). Cool in cold water, peel, and then cut into cubes.
Combine cooled crab sticks, mushrooms, onions, and eggs in a bowl.
Season the salad ingredients with mayonnaise. Season with black pepper to taste.

Stir the salad.
Salad with fried crab sticks, mushrooms and eggs is ready. It can be served immediately.
Bon Appetit!
Also Like
Comments for "Salad with Fried Crab Sticks, Mushrooms and Eggs"