Lavash Roll with Crab Sticks
by Editorial Staff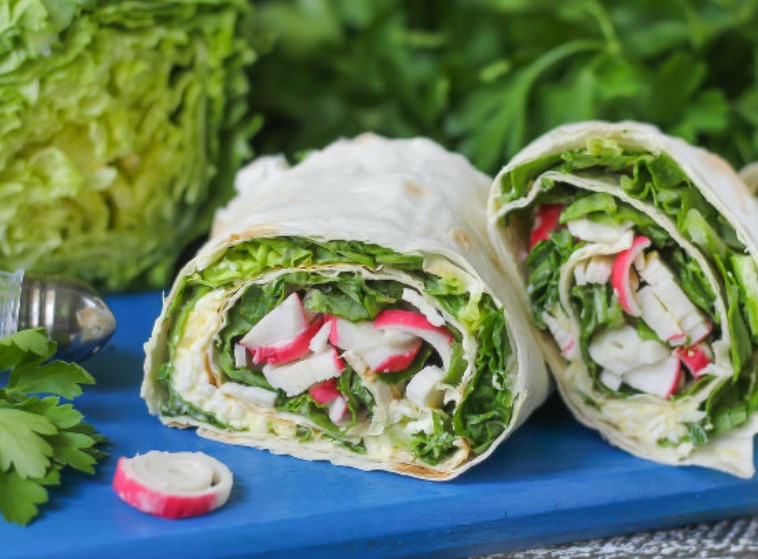 The recipe for lavash roll with crab sticks, Chinese cabbage and eggs will allow you to quickly and easily prepare an excellent appetizer – juicy and colorful.
Cook: 15 mins
Servings: 4
Ingredients
Lavash thin, rectangular – 1 sheet
Crab sticks – 200 g
Peking cabbage – 1/4 head of cabbage
Eggs (boiled) – 2 pcs.
Mayonnaise – 2 tbsp
Salt – 2 pinches
Directions
Prepare the food you need. Defrost the crab sticks beforehand. Remove the top leaves from the Chinese cabbage. Boil the eggs hard-boiled (10 minutes) and cool in cold water.

Cut the crab sticks into thin slices. Peel the boiled eggs, finely grate and mix with mayonnaise and salt.
Cut the Chinese cabbage (green portion) into strips.
Unfold a sheet of pita bread and place Chinese cabbage on top of it, leaving one edge blank.
On a piece of cabbage, on the other side, evenly place the crab sticks.
After 5-7 cm from the crab sticks, put a strip of eggs with mayonnaise on the cabbage. (You can replace the egg layer with processed cheese, or add cheese to the eggs.)

Roll the filled pita bread into a roll, starting at the edge with the crab sticks, and cut in half in the middle.
Then cut each part into a few more portions. You can let the dish soak slightly, or you can immediately serve it while the lavash is not yet soaked – act to your liking.
Bon appetit!
Also Like
Comments for "Lavash Roll with Crab Sticks"