Korean Style Smoked Chicken and Carrot Salad
by Editorial Staff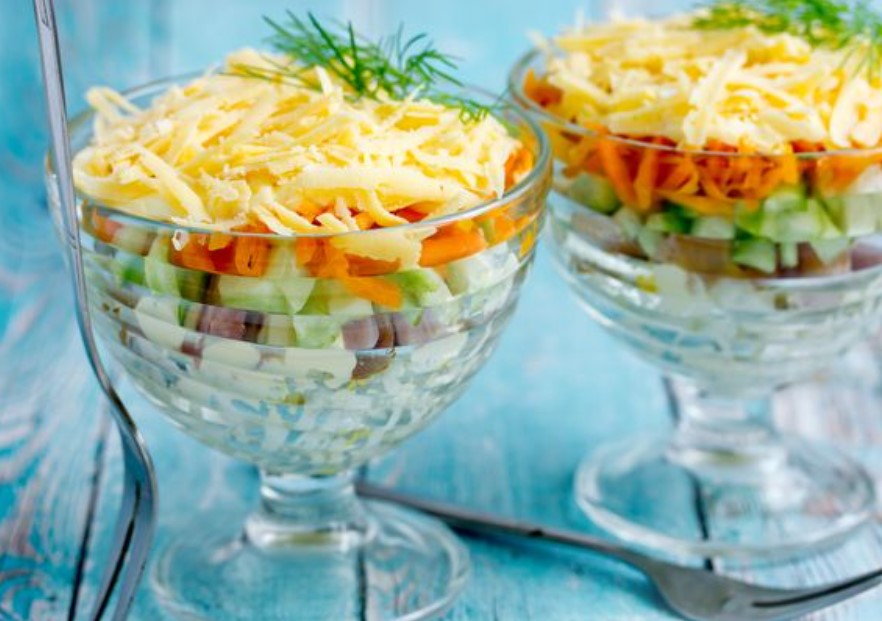 Salad with smoked chicken, Korean carrots, eggs, fresh cucumbers and cheese will become a real decoration of any table. The salad is bright both in taste and in appearance, it will look especially advantageous in glass bowls!
Cook: 30 mins
Servings: 4
Ingredients
Smoked chicken – 250 g
Korean carrots – 200 g
Cucumbers – 2 pcs.
Eggs – 4 pcs.
Hard cheese – 100 g
Mayonnaise – 160 g
Dill (for decoration) – 4 branches
Salt to taste
Directions
Prepare all the ingredients needed to make the Korean Smoked Chicken and Carrot Salad

Cut the smoked chicken from the bones. (I used smoked chicken drumsticks; you can also use chicken thighs, legs, or fillets.)
Cut the smoked chicken into small cubes.
Wash fresh cucumbers and cut off the upper dark layer of the skin with a vegetable peeler. Cut the cucumbers into small cubes.
Boil chicken eggs for 10 minutes in boiling salted water, then cool in cold water and peel them.
Grate eggs on a coarse grater and place in glass bowls or one large shared salad bowl. Pour mayonnaise on a layer of eggs.
Put smoked chicken on a layer of eggs, also pour mayonnaise.
This is followed by a layer of cucumbers. You do not need to water it with mayonnaise.
Then comes a layer of Korean carrots. On carrots – mayonnaise mesh.

And the last layer of salad is hard cheese grated on a coarse grater. Put the salad in the refrigerator for 30 minutes to soak the layers.
Garnish each serving of the flaky salad with herbs before serving.
Korean style salad with smoked chicken and carrots is ready.
Bon Appetit!
Also Like
Comments for "Korean Style Smoked Chicken and Carrot Salad"