Beans Salad with Korean-Style Carrots, Fried Onions and Herbs
by Editorial Staff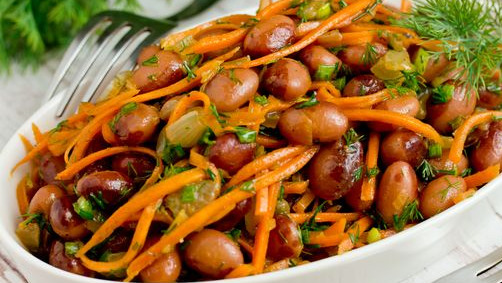 Bean salad with fried onions, Korean carrots, and fresh herbs is hearty and very healthy in itself. It is boiled beans that make it nutritious, and Korean-style carrots give the salad a pungency and spicy aroma. As a dressing – oil in which the onions were fried. And what can not but rejoice – no mayonnaise!
Servings: 3
Ingredients
Colored beans – 100 g (dry weight)
Korean carrots – 100 g
Onions – 80 g (1 pc.)
Green onions – 20 g
Fresh dill – 10 g
Sunflower oil – 2 tbsp
Salt to taste
Directions
Sort the beans, rinse, transfer to a saucepan or bowl and fill with clean cold water (you can from the tap). Leave the beans to soak for at least 6 hours, or better yet, overnight.
Drain the swollen beans. Transfer the beans to a saucepan, cover with clean cold water flush with the beans. Bring water to a boil over high heat, reduce heat and cook the beans until soft and fully cooked (I cooked the beans for 45 minutes). If the water boils away during the boiling process, add a little boiling water. When boiling, the beans do not need to be salted. I lightly salt at the end of cooking, about 10 minutes.
Drain the boiled beans. Let the beans cool, then transfer them to a bowl.
Peel the onion and cut it into cubes.
Heat the sunflower oil in a skillet. Fry the onion over medium heat until transparent, not allowing it to brown too much. Cool the fried onions.
Put the fried onions with the oil from the pan into a bowl with the beans.
Now add Korean carrots to the beans and onions.
Wash the green onion feathers, dry, cut into thin rings.
Rinse the dull, dry, chop.
Add chives and dill to the previously combined salad ingredients.
Stir the salad well. If necessary, it can be additionally slightly salted.
Enjoy your meal!
Also Like
Comments for "Beans Salad with Korean-Style Carrots, Fried Onions and Herbs"