Korean Style Gggplant
by Editorial Staff
I want to share with you a delicious Korean eggplant salad. Such an eggplant salad in Korean is eaten even by those who do not like eggplant (imagine, there are such people)). The salad is simply incomparable and delicious! And if you take such a snack to nature … Look, I warned you 🙂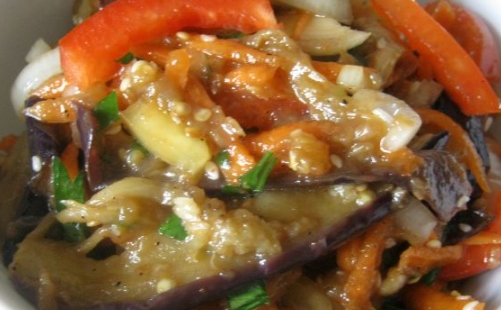 Servings: 6
Ingredients
Eggplant – 4 pcs.
Tomatoes – 2-3 pcs.
Bulgarian pepper – 2 pcs.
Carrots – 1-2 pcs.
Bulb onions – 1 pc.
Garlic – 3-4 cloves
Ground red pepper – to taste
Black pepper – to taste
Parsley to taste
Ground coriander – 1-2 teaspoon
Apple cider vinegar 9% – 1-2 tbsp
or lemon juice – 1-2 tbsp
Vegetable oil – 3-4 tbsp
Sesame seeds – 1-2 teaspoon
Salt to taste
Honey – 1 teaspoon
or sugar – 1 teaspoon
Soy sauce – 1-2 tablespoons (to taste)
Directions
Wash the eggplant.

Cut the eggplants lengthwise into thin strips, 1.5-2 cm thick.

Sprinkle with 1 tablespoon. a spoonful of salt. Mix. Leave on for 30 minutes.
Peel, wash and cut onions into thin half-rings.
Wash and finely chop the herbs. Peel the garlic and crush in a garlic bowl.
Peel, wash and grate the carrots with a Korean carrot grater or a regular coarse grater.
Wash the pepper, remove the seeds, cut into thin strips. Wash the tomatoes and cut into strips.
Wash the eggplants with cold water, squeeze. Preheat a frying pan, pour 2 tablespoon. tablespoons of vegetable oil. Put the eggplant in hot oil. Fry the eggplants, stirring occasionally, for 7-10 minutes, over medium heat. Place in a bowl. Refrigerate.
Place all ingredients in a bowl. Sprinkle vegetables with coriander, pepper, sesame seeds, mix with honey, garlic and herbs.
Mix everything, add vinegar and soy sauce. You can add more oils if desired. Mix. Put the Korean style eggplants in the refrigerator for a day.

Korean style eggplants are ready.
Bon Appetit!
Also Like
Comments for "Korean Style Gggplant"