Kadicha (Korean Style Eggplant)
by Editorial Staff
The recipe for a delicious vegetable dish. Kadicha is a spicy Korean salad made with stewed eggplant, tomatoes, bell peppers, and chili. Lovers of spicy dishes will really like this salad.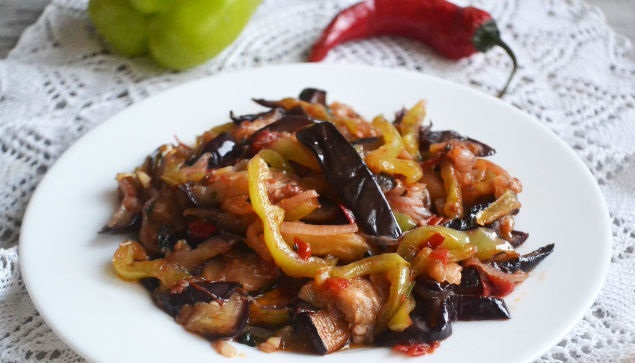 Ingredients
Large eggplant – 1 pc.
Onions – 1 pc.
Cherry tomatoes – 5-6 pcs.
Vegetable oil – 3 tbsp
Bulgarian pepper – 1 pc.
Chili pepper – 1 pc.
Garlic – 3 cloves
Soy sauce – 2 tbsp
Cilantro – 2 branches
Salt to taste
Ground black pepper – to taste
Directions
Wash the eggplant and cut into wide strips.

Put the eggplants in a deep container and salt well. Mix the eggplants and wrinkle them a little with your hands. Leave the eggplant aside for 15 minutes.
After 15 minutes, rinse the eggplants under running water and dry them with a paper towel.

Peel the onion from the top husk and cut into half rings.
Peel the bell peppers and cut them into strips. Cut the cherry tomatoes and chili in half. Remove seeds from hot pepper and chop finely.
In a frying pan with the addition of vegetable oil, fry the onions until golden brown.

Add the tomatoes and fry for another 4 minutes.
Add bell peppers and chili peppers to the tomatoes and onions. We fry vegetables for another 3 minutes.

Then add the eggplants to the pan. We mix.
Cook vegetables for 10-15 minutes, stirring occasionally. At the end of frying, cover the pan with a lid and simmer for another 3-4 minutes.

Peel and chop the garlic. We also chop the cilantro finely.
Season the eggplant, tomato, and pepper salad with spices to taste. Also add finely chopped garlic, cilantro, and soy sauce. Mix everything thoroughly and turn off the stove. Cover with a lid and leave for a couple of minutes.
Eggplant, tomato, and pepper kadicha are ready. It can be served both warm and cold.
Enjoy your meal!
Also Like
Comments for "Kadicha (Korean Style Eggplant)"