Steamed Eggplant, Korean
by Editorial Staff
Eggplant with garlic, green onions, sesame seeds and soy sauce – aromatic, hot and spicy. This is both an appetizer and a side dish. They are good both hot and cold. Discover a new dish and new flavors – Korean Steamed Eggplant.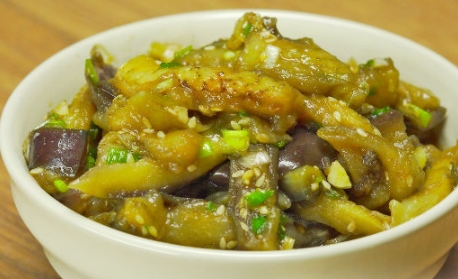 Servings: 4
Cook: 25 mins
Ingredients
Eggplant – 2 pcs.
Garlic – 3 cloves
Green onions – 2 pcs.
Sesame seeds (roasted) – 1 tbsp
Soy sauce – 1 tbsp
Fish sauce – 1 teaspoon
Hot red pepper – 1 teaspoon
Sesame oil – 2 teaspoon
Directions
Finely chop the garlic and green onion.

Cut the eggplants lengthwise into large pieces.

Put chopped eggplants in a double boiler with boiling water, cover and cook for 5-7 minutes. We determine the readiness of the eggplants with a wooden skewer; the finished eggplants should be soft and whole.
Pour finely chopped green onions into a bowl (we leave a little onion for serving) and garlic, mix.
Put hot eggplants from the pan on a cutting board. We put a bowl of cold water next to it to cool our fingers. Tear steamed boiled eggplants with your hands lengthwise into pieces about 1 cm thick and place in a bowl with onions and garlic.
Add red pepper, soy and fish sauces to the eggplant. (If you are not consuming fish sauce, you can substitute an extra spoonful of soy sauce for it.) Mix everything carefully.
Add sesame oil and roasted sesame seeds (leave a little for serving), rubbing them with your fingers.

Mix everything, put the eggplant with garlic and green onions in a plate, sprinkle with the remaining onions and sesame seeds. Steamed eggplants in Korean are ready.
Bon Appetit!
Also Like
Comments for "Steamed Eggplant, Korean"