Korean Style Eggplant Appetizer
by Editorial Staff
We offer you a recipe for an original and spicy Korean style eggplant appetizer.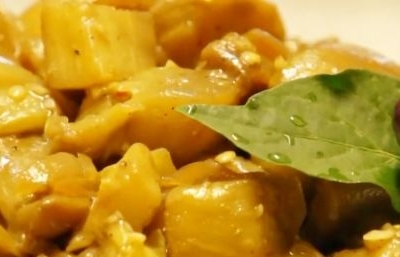 Ingredients
Eggplant – 1 kg
Bulb onions – 2 pcs.
Garlic – 3 cloves
Salt – 1.5 teaspoon
Ground black pepper – 0.5 teaspoon
Ground red hot pepper – 0.5 teaspoon
Soy sauce – 1.5 tbsp
Vegetable oil – 100 ml
Directions
We prepare products.

Wash one kilogram of young eggplants, clean and cut into cubes with a side of 1.5 centimeters, add 1 teaspoon of salt, mix and set aside for 20 minutes.
We clean two onions, wash, cut into strips or half rings.
Chop three cloves of garlic.
Pour 100 milliliters of vegetable oil into a frying pan with a thick bottom, lay the onion and, stirring from time to time, fry until soft.
While the onions are fried, rinse the eggplants in cold water, put them in a colander and squeeze lightly.
Add eggplants to the onion, stir and fry until soft.
Turn off the heat, add 1.5 tablespoons of soy sauce, 0.5 teaspoon of red hot ground pepper, 0.5 teaspoons of black pepper, 0.5 teaspoon of salt and chopped garlic.

Stir, let the salad cool and serve a delicious Korean style eggplant appetizer to the table.
Enjoy your meal!
Also Like
Comments for "Korean Style Eggplant Appetizer"