Korean Style Omelet with Rice
by Editorial Staff
If you love oriental cuisine, then I offer you a great option for a delicious and satisfying tomorrow or dinner – a recipe for making an omelet with rice in Korean. This mouth-watering dish is easy to repeat.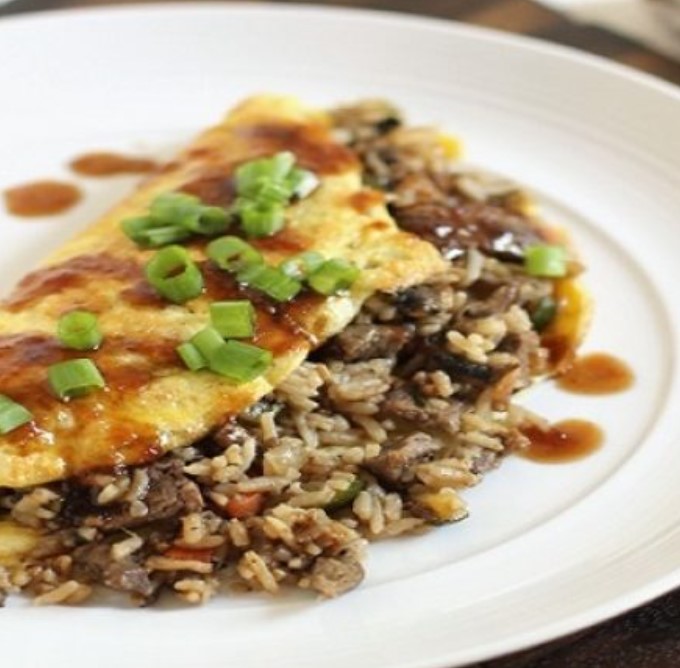 Cook: 45 mins
Servings: 4
Ingredients
Carrots – 1 Piece
Onion – 1 Piece
Zucchini – 1 Piece
Mushrooms – 150-200 Grams
Vegetable oil – 3-4 Tbsp. spoons
Beef – 200-250 Grams
Rice – 1 Glass
Teriyaki sauce – 4-6 Art. spoons
Eggs – 4-5 Pieces
Salt – 1 Pinch
Directions
First, you need to prepare vegetables. The carrots and onion must be peeled and diced. Also grind the zucchini and mushrooms. This is a classic Korean style omelette with rice that can be tweaked based on the availability of ingredients. Sweet peppers, for example, are also perfect here. In a frying pan (a wok is an ideal option for this dish) heat up some vegetable oil and send the vegetables there. Fry until soft, stirring occasionally.
In the meantime, you can do the meat. Wash the beef, dry with a paper towel and cut into small cubes. In parallel, it is necessary to boil rice.
Add a little teriyaki sauce to the vegetables (if not, you can make the sauce yourself). Fry for a couple of minutes and remove from heat. Put the vegetables out of the pan.
Pour some more oil into the pan and send the meat there. Season the beef with salt and pepper to taste and fry over high heat until a crust appears. Then add the sauce and fry over medium heat until tender. Then add the meat from the pan to the vegetables.

Put boiled rice in the same pan and fry it for a couple of minutes, adding a little more sauce.
Then you can add meat with vegetables to the rice, mix thoroughly and remove from heat.
Beat the eggs with a pinch of salt and fry the omelet in a separate frying pan.
When the omelet is ready, put the filling on one half of it and wrap it up. Korean style omelet with rice at home can be served at the table. Sprinkle with fresh herbs if desired.
Bon appetit!
Also Like
Comments for "Korean Style Omelet with Rice"