Lavash Roll with Chicken, Korean Carrots and Cucumbers
by Editorial Staff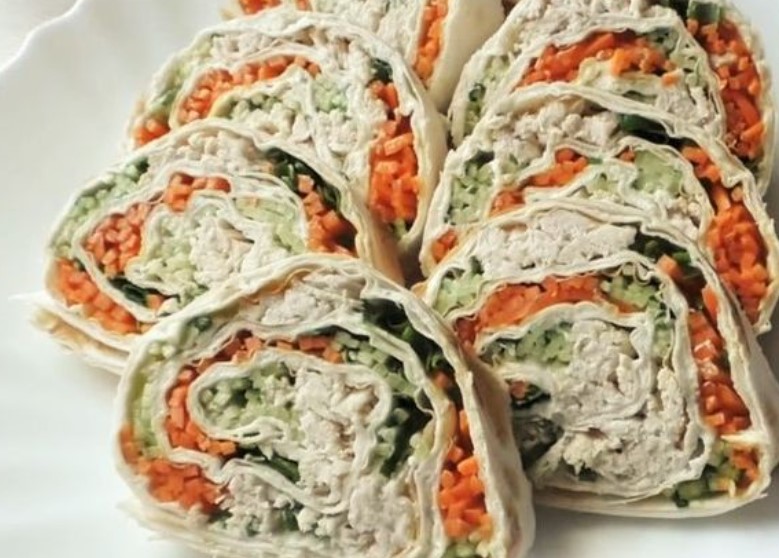 A quick recipe for a cool pita bread that everyone will love! Lavash roll is a lifesaver for any feast! The main thing is to grease the pita bread well with a delicious sauce and not regret the filling.
Ingredients
Thin lavash – 2 pcs.
Boiled chicken breast – 200 g
Korean carrots – 150 g
Fresh cucumbers – 2 pcs.
Green onions – 2 pcs.
Curd cheese – 140 g
Mayonnaise – 1-2 tbsp
Garlic – 1 clove
Directions
All the foods we will be using today can be eaten individually. But, putting it all together, we get an amazing snack and very quickly. You just need to boil chicken meat in advance, or replace it with something.

First of all, we make a shaving sauce. Add mayonnaise, chopped garlic (squeezed through a press) to the curd cheese and mix well.
Grease one pita bread with sauce and gently cover with the second pita bread so that the edges combine (dock).
Lay out the prepared filling in rows: cucumbers (grated for Korean carrots), chicken (disassembled into fibers), green onions (finely chopped) and Korean carrots. We repeat all rows. Then you can add a little mayonnaise (pour a thin stream) between the rows of cucumbers and chicken. Sprinkle the edge with mayonnaise too.
We wrap the pita bread with the filling in a tight roll.

Lavash roll with chicken, Korean carrots and cucumbers can be cut almost immediately. Pita bread is prepared quickly. The roll is tasty, bright and aromatic, and also very satisfying. Try it for health, cook with pleasure
Bon appetit!
Also Like
Comments for "Lavash Roll with Chicken, Korean Carrots and Cucumbers"