Lavash Rolls (Roll) with Fish, Cabbage, Cucumber and Carrots
by Editorial Staff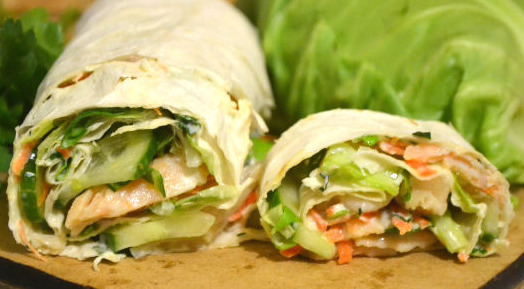 We offer you a recipe for a pita roll with fish and vegetables. We will cook tasty and healthy rolls (rolls) from salmon, carrots, fresh cucumber, and fresh cabbage, with yogurt and herbs.
Ingredients
Thin lavash – 0.5 pcs.
Lightly salted salmon – 200 g
Carrots – 1 pc.
Fresh cucumber – 1 pc.
Young cabbage – 2 leaves
Natural, thick yogurt or sour cream – 110 ml
Dill, greens – 1 branch
Parsley, herbs – 1 sprig
Salt to taste
Ground black pepper – to taste
How to cook lavash rolls (rolls) with salmon, cabbage, cucumber, and carrots:
Directions
Mix natural yogurt or sour cream with finely chopped herbs.
Peel the carrots and grate them coarsely. Wash the cucumber and cut into thin slices.
Cut the fish into strips. Wash cabbage leaves and cut them into small pieces.
We layout a sheet of pita bread and grease it with yogurt and herbs.
We layout the fish.

Put grated carrots and sliced ​​cucumber on the fish.
Put cabbage leaves on carrots and cucumber.
We roll the pita bread with the filling into a tight roll. Cut the finished lavash roll with fish and vegetables into pieces.
Enjoy your meal!
Also Like
Comments for "Lavash Rolls (Roll) with Fish, Cabbage, Cucumber and Carrots"