Lavash Roll with Cabbage
by Editorial Staff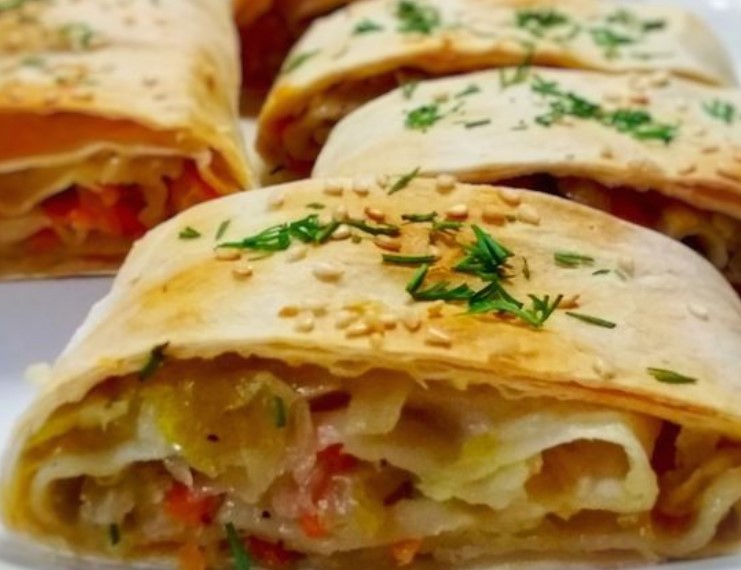 Crispy pita roll with aromatic and juicy cabbage, carrot and green onion filling.
Ingredients
Thin lavash – 200 g
White cabbage – 500 g
Carrots – 1 pc.
Green onions (with onions) – several pieces
Vegetable oil – 1 tbsp
Yolk – 1 pc.
or milk – 2 tbsp
Fried sesame seeds (optional) – 1 teaspoon
Ground black pepper – to taste
Salt to taste
Directions
Chop the cabbage into thin strips.
Finely chop the green onion, coarsely grate the carrots.
Pour vegetable oil into a preheated pan and put all the vegetables. Fry for the first 2 minutes over medium heat. Then simmer for 10 minutes over low heat. After that, the filling can be salted, pepper, mixed and cooled.
Divide the lavash in half. Put 1/2 part of the stewed cabbage with vegetables on one half and spread in an even layer.

Roll the stuffed pita bread into a neat roll. Do the same with the second half of the lavash.
Grease the surface of the rolls with yolk or milk. (Sprinkle with sesame seeds if desired.) Put the pita rolls on a baking sheet covered with parchment.
Bake pita rolls with cabbage in the oven preheated to 200 ° C, 10-15 minutes, until golden brown.
Cool the finished roll, covering with a towel. Cut into pieces and serve as an appetizer or as an addition to the first course.
Bon Appetit
Also Like
Comments for "Lavash Roll with Cabbage"