Lavash Rolls with Meat, Tomatoes and Cheese
by Editorial Staff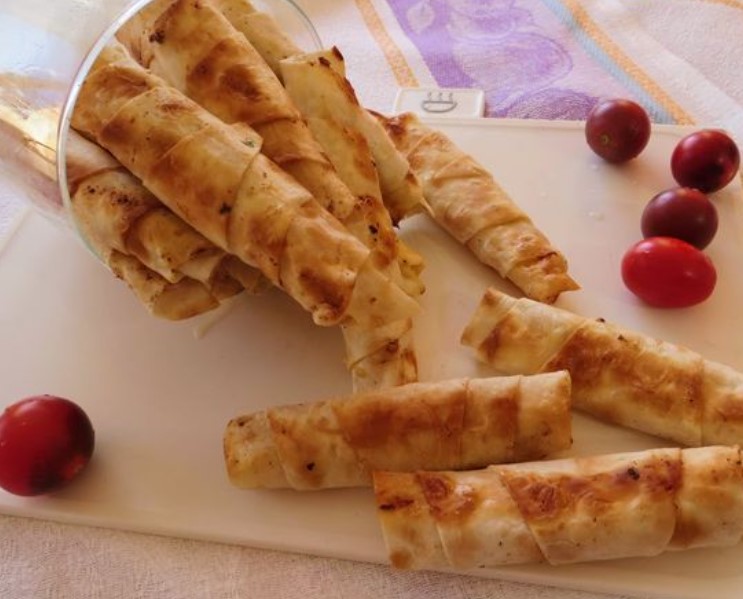 Imagine, I almost forgot to share this wonderful recipe with you! Lavash snacks! It is very easy to prepare, use the filling to your taste. Try it, then say thank you!
Ingredients
Lavash – 4 sheets
Baked turkey with spices (or sausage) – 150 g
Eggs – 2 pcs.
Tomatoes – 2 pcs.
Cheese (I have suluguni) – 100 g
Parsley to taste
Garlic – 2 cloves
Vegetable oil – for frying
Salt – 1 pinch
Directions
The products are the simplest. If everything is at hand, we can do it in 5 minutes. We divide the eggs into yolks and whites.

Cut the meat into small cubes and send it to a cup.
We also cut the tomatoes into small cubes and spread them to the meat.Rub the cheese on a
coarse grater and add it to the bowl.
Add garlic passed through a press, chopped herbs, salt (be careful, the amount depends on how salty the cheese and meat are) and yolks. Mix gently. The filling is ready.
We cut the lavash into triangles with a base of 10 cm and sides of 20 cm, whoever succeeds.
We coat the lavash blank with egg white and put 1 tablespoon of the filling on the edge. We roll up a tube of lavash.

Fry pita bread rolls with filling in a frying pan in a small amount of vegetable oil. Fry very quickly! We take out the finished sticks-tubes on a plate with paper towels to get rid of excess oil.
Such an appetizer can be prepared in advance and sent to the oven before serving (for 5-7 minutes). Then the pita rolls will remain crispy.
Bon appetit!
Also Like
Comments for "Lavash Rolls with Meat, Tomatoes and Cheese"