Lavash Rolls with Curd and Cheese Filling
by Editorial Staff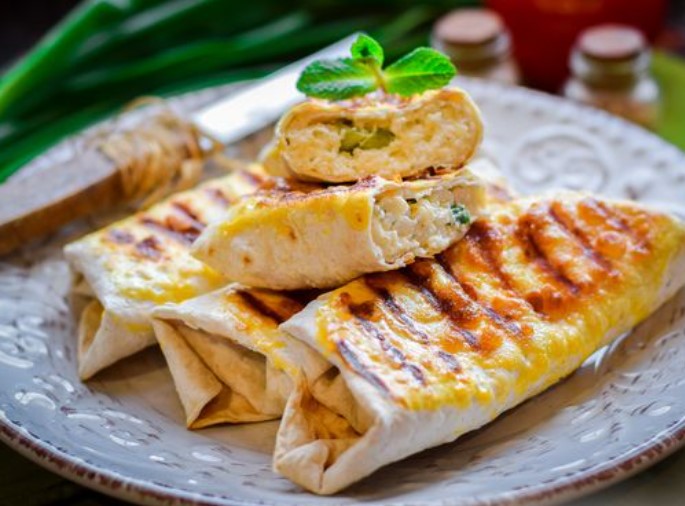 Crispy lavash rolls with delicate curd and cheese filling are an interesting option for breakfast or a snack. The filling is made from cottage cheese, hard cheese, green onions and sour cream. The finished mass is wrapped in pita bread in the form of rolls, and then they are fried in a pan. Quite simple and delicious.
Cook: 20 mins
Servings: 2
Ingredients
Thin lavash – 4 pcs. (80 g)
Cottage cheese – 120 g
Hard cheese – 70 g
Green onion – 2-3 feathers (20 g)
Sour cream – 1 tbsp (with a slide)
Salt – 2 pinches
Ground black pepper – 2 pinches
Egg (yolk) – 1 pc.
Vegetable oil (for frying) – 2 tbsp
Directions
Prepare all products according to the list. If desired, instead of small round sheets of lavash, you can use large rectangular sheets by cutting them into small squares or rectangles about 15-20 cm wide.

Transfer the cottage cheese to a deep bowl and knead well with a spoon or fork.
Grate the cheese on a fine grater and send to the bowl with the curd.
Rinse green onions, dry, chop finely with a knife and also send to a bowl. Add salt and ground black pepper.
Add sour cream to a bowl of curd and cheese mixture.

Mix thoroughly until smooth. The filling for pita bread is ready.
Put about a tablespoon of the filling on the edge of each sheet of pita bread.
Roll up all the pita bread rolls. From the specified amount, I got 4 rolls.
Break the egg and separate the white from the yolk (the white is not needed – you can use it at your discretion). Shake the yolk and grease the pita rolls on all sides.
Heat a frying pan over medium heat and lightly grease with vegetable oil. Put the rolls in a frying pan and fry on each side for about 1.5-2 minutes, until golden brown.

Serve ready-made lavash rolls with curd and cheese filling to the table.

Enjoy your meal!
Also Like
Comments for "Lavash Rolls with Curd and Cheese Filling"