Zucchini Snack Roll with Cheese and Curd Filling
by Editorial Staff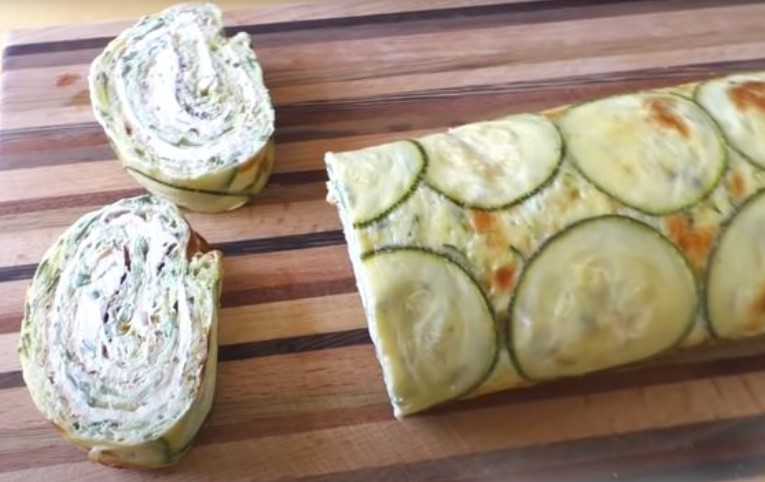 One of my favorite zucchini recipes. Snack roll made of grated zucchini with cheese, with a fragrant cottage cheese and garlic filling, which is perfect for lunch and even decorates the festive table! It turns out delicious and beautiful! It's very easy to prepare!
Ingredients
Zucchini – 2 pcs.
Eggs – 4 pcs.
Hard cheese – 60 g
Curd cheese (I have defrosted fermented baked milk) – 250 g
Garlic – 1 clove
Parsley – a couple of sprigs
Salt to taste
Ground black pepper – to taste
Directions
For the recipe, you need a couple of young small zucchini. Rub one and a half of them on a coarse grater.
And cut the remaining half of the zucchini into thin slices.
Add eggs and salt to the grated zucchini. We mix.

Add pepper and cheese, also grated on a coarse grater. Mix well.
We immediately heat the oven to 190 degrees. On a baking sheet, we form a plane with sides from parchment; for this, the paper can be cut in the corners, bent, forming a right angle, and fastened with metal staples. I have siliconized parchment, nothing sticks; you oil well if using regular baking paper. Spread the dough evenly on the parchment.
On top of the zucchini-egg mass, lay out the zucchini circles. Even if there is not enough for the whole roll, it's okay. It is important for us that there are enough zucchini for one side, which will be outside
We bake the base of the roll in a preheated oven at a temperature of 190 degrees for about 20 minutes. Let the finished base cool slightly, then carefully remove it from the parchment.
Cooking the filling. You can use curd cheese. I have frozen fermented baked milk, which thawed on a sieve all night. And it turned out to be curd with the taste of baked milk. Add garlic, finely chopped herbs, salt and pepper to taste to the curd. The filling is tender and aromatic.
We distribute the filling on the base, so that when wrapping the roll, the zucchini circles are on top. We turn off the roll.

Zucchini snack roll with cheese and cottage cheese and garlic filling can be sent to the refrigerator for several hours before serving on the festive table.
Or you can immediately cut and eat. This is what we do all summer!
Bon Appetit!
Also Like
Comments for "Zucchini Snack Roll with Cheese and Curd Filling"