Lavash Pie with Chicken and Cheese
by Editorial Staff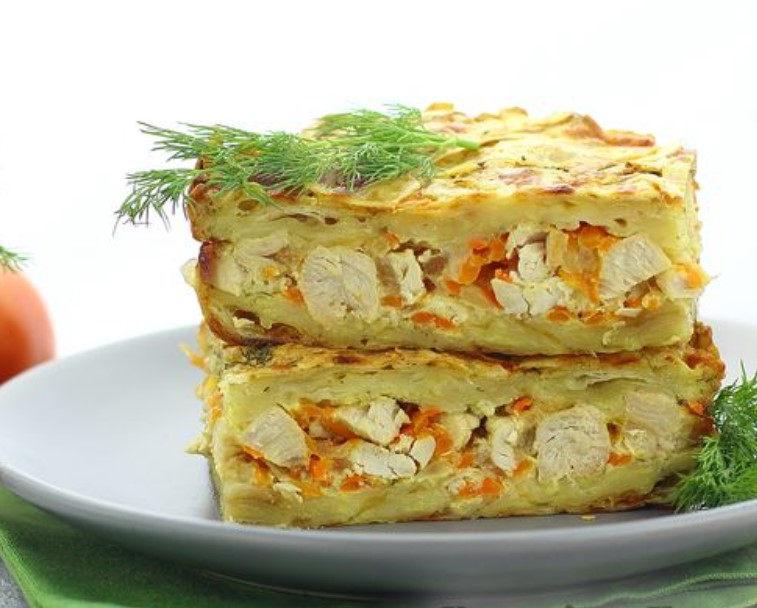 Surely no one will refuse a hearty and tasty snack. Pita bread with chicken and cheese is a great addition to a homemade lunch or dinner, to the first and second courses. It is convenient to cut the pie into portions and use it as a snack. Let's cook!
Cook: 1 hour 5 mins
Serving: 4
Ingredients
Chicken fillet – 250 g
Thin lavash – 100 g
Onions – 120 g (1 pc.)
Carrots – 100 g (1 pc.)
Milk – 125 ml
Hard cheese – 80 g
Eggs – 2 pcs.
Fresh dill – 3 branches
Vegetable oil – 4 tbsp
Salt to taste
Ground black pepper – to taste
Directions
Prepare all ingredients. You can buy ready-made minced chicken from a trusted butcher store or take breast / thigh / drumstick fillets. Buy hard cheese according to your taste, the main thing is that it melts well. Instead of dill, any greens are suitable, at your discretion

Rinse the fillet well, dry it with napkins, chop it with a meat grinder until it is minced or cut into small pieces, as I did.
In a frying pan, heat half (2 tablespoons) of vegetable oil and add the chicken meat there. Fry over high heat for 8-10 minutes, stirring occasionally with a spatula.
Peel the onion and cut into small pieces. Grate the peeled carrots on a coarse grater. Add vegetables to the skillet with the chicken. Stir. Season to taste with salt and black pepper. Cook over medium heat for about 10 minutes, until vegetables are tender.
Let the finished filling cool slightly.
Beat eggs into a deep bowl. Pour in milk. Shake with a whisk until smooth.
Grate the cheese on a coarse grater. Rinse the dill, dry and chop finely. Add cheese and dill to the milk and egg mixture. Pour in the remaining vegetable oil (2 tablespoons). Stir
Turn on the oven to heat up to 200 degrees. Tear the lavash with your hands into small pieces. Add the pita bread to the egg mixture. Season with salt and pepper to taste. Stir.
You should get a thick mass without liquid. If there is a liquid part, add some more torn pita bread.
Find a suitable ovenproof baking dish. In my case, the size of the form is 13×20 cm. The form can be greased with vegetable or butter. I use parchment paper and do not smear anything to reduce the calorie content of the dish. Place half of the pita bread mixture on the bottom of the mold. Flatten and tamp with a spoon.
Add grilled chicken. Smooth with a spoon.

Place the other half of the pita bread mixture on top. Tamp and flatten with a spoon. Send the form into an oven preheated to 200 degrees for 30-40 minutes. The baking time depends on the power of your technique and the size of the cake. A golden crust should form on top.
Lavash pie with chicken and cheese is ready. Cool the pie slightly in the pan.
Remove the pie, cut into portions and serve.
Bon Appetit!
Also Like
Comments for "Lavash Pie with Chicken and Cheese"