Filo Dough Appetizer with Salmon and Cream Cheese Cream
by Editorial Staff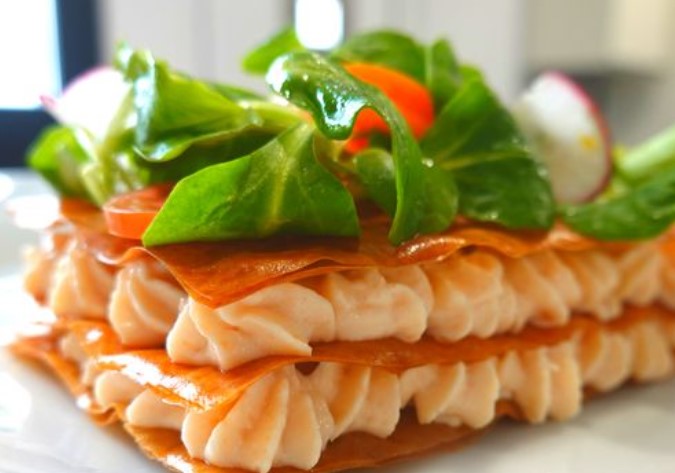 Today we are preparing a spectacular and tasty appetizer of filo dough with a cream filling of lightly salted salmon and cream cheese. On top, I garnished the appetizer with salad. Bon Appetit!
Servings: 1
Ingredients
Filo dough – 1 sheet
Lightly salted salmon – 50 g
Cream cheese "Philadelphia" – 100 g
Lemon juice – 1/2 teaspoon
Vegetable oil – for greasing the dough
Green onions or dill – to taste
For a salad (for decorating a snack):
Cherry tomatoes – 2 pcs.
Radish – 1 pc.
Green leaf salad – to taste
Olive oil – to taste
Directions
Beat the salmon and cream cheese with a blender until smooth. Add lemon juice and stir.
Grease the filo dough sheet with vegetable oil and fold it in half. We trim the edges evenly and neatly. Grease the resulting sheet with oil again. Cut into equal parts.
We bake the filo dough in a preheated oven for 5 minutes at 180 degrees, until golden brown.
Put the prepared salmon cream on the filo sheet using a pastry bag.

Sprinkle the filling with chopped dill or green onions. We cover with the next part of the filo, etc. Thus, we make 2-3 layers of cream (I have 2).
Cooking a salad of chopped cherry tomatoes, radishes and green salad leaves. Season with olive oil.
Put the prepared salad on top of the filo dough appetizer with salmon and cream cheese. The original festive snack is ready.
Bon Appetit!
Also Like
Comments for "Filo Dough Appetizer with Salmon and Cream Cheese Cream"