Filo Dough Apple Strudel
by Editorial Staff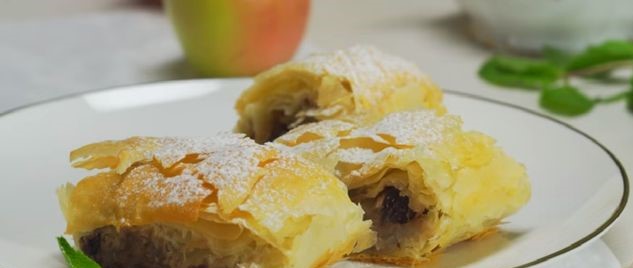 A crispy dessert with aromatic apples and raisins will not leave anyone indifferent, it is not difficult to prepare it. Add a scoop of ice cream to this traditional Viennese baked until golden brown and serve with aromatic tea or coffee – success is guaranteed!
Cook: 55 mins
Servings: 8
Ingredients
Apples – 1 kg.
Bread crumbs – 3 tbsp
Cinnamon – 1 teaspoon
Sugar – 3 tbsp
Raisins – 100 g
Walnuts (ground) – 100 g
Butter – 40 g
Filo dough – 450 g
Rum – 150 ml
Lemon juice – 2 tbsp
Powdered sugar – for decoration
Fresh mint (optional) – for decoration
Directions
Rinse the raisins and soak in rum, preferably for a day.
Peel and core the apples, cut in half and cut into thin slices.
Add lemon juice, cinnamon, crackers, sugar, groundnuts and raisins to the apples, after draining the remaining rum from the raisins. Mix everything well.

Divide the dough into two halves. Put one sheet of dough on a towel and brush with melted butter. Then put a second sheet on it and grease with melted butter again. So repeat with five more sheets of dough.
Place half of the apple filling on the last layer and roll the strudel with a towel.
Line a baking sheet with parchment and put in strudel. Liberally grease the apple filo strudel with melted butter.
Preheat the oven to 180 ° C and bake for 40 minutes, until golden brown.

Brush the finished filo dough apple strudel with melted butter. Sprinkle with powdered sugar and garnish with a mint leaf (optional).
Bon Appetit!
Also Like
Comments for "Filo Dough Apple Strudel"