Filo Dough Baklava
by Editorial Staff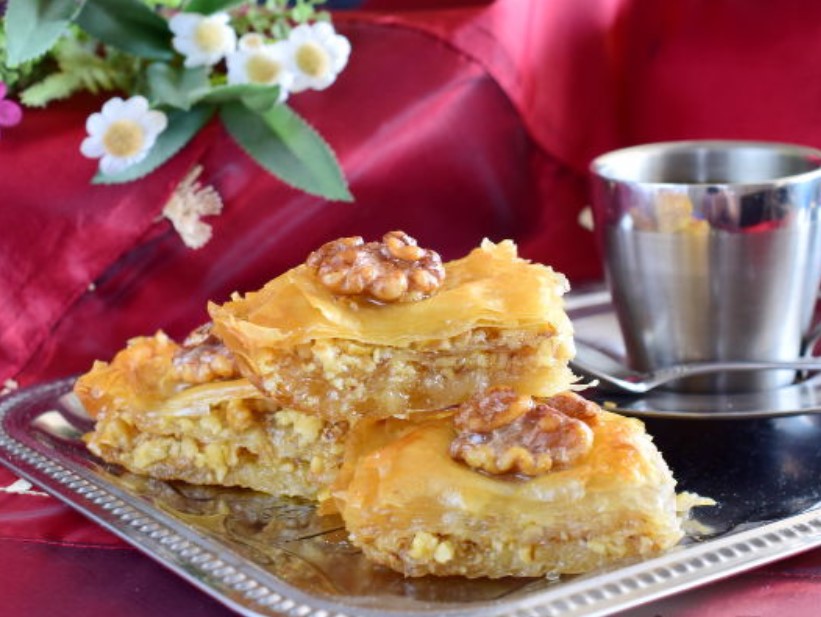 I think many of you have tried baklava – a delicious oriental delicacy. Using this recipe, you can quickly and easily cook delicious baklava at home. A distinctive feature of the proposed recipe is that filo dough is used instead of puff pastry.
Cook: 45 mins
Serving: 4
Ingredients
Walnuts – 400 g
Filo dough (ready-made) – 200 g
Butter – 200 g
Sugar – 2 cups
Water – 1 glass
Lemon – 0.5 pcs.
Directions
Let's prepare all the products for filo dough baklava. To prepare baklava, I will use a 30×30 cm mold

Take 10 whole nut halves for decoration, crush the rest of the nuts in a mortar until fine. Melt the butter in the microwave.
Cut the filo dough into squares, the size of the form in which you will cook baklava. Lubricate the mold with butter and spread the filo dough sheet. Lubricate the top of the sheet with butter. We make 6-7 layers of dough, greased with butter.
Put crushed walnuts on the 7th layer of dough
And again we spread 6-7 layers of filo dough, lubricating them with butter. Now we cut our baklava into squares or rhombuses, as you like.
Pour the remaining butter over the baklava.
Put half a nut on each piece. We send the form with baklava to an oven preheated to 180 degrees for 20 minutes.
In the meantime, let's prepare the syrup. To do this, in a saucepan, mix sugar and half a lemon, cut into 2-3 pieces.
Add water and put the saucepan on fire. Cook the syrup for 10-12 minutes, until bubbles appear on the surface of the syrup and it thickens.
Remove the finished syrup from heat.
We take out the baklava from the oven and immediately fill it with syrup. Leave the baklava for at least 3-4 hours to cool and soak in syrup.

Filo dough baklava is ready. We serve it for tea. Baklava is also good with milk
Bon Appetit!
Also Like
Comments for "Filo Dough Baklava"