Crimean Baklava ("Beach")
by Editorial Staff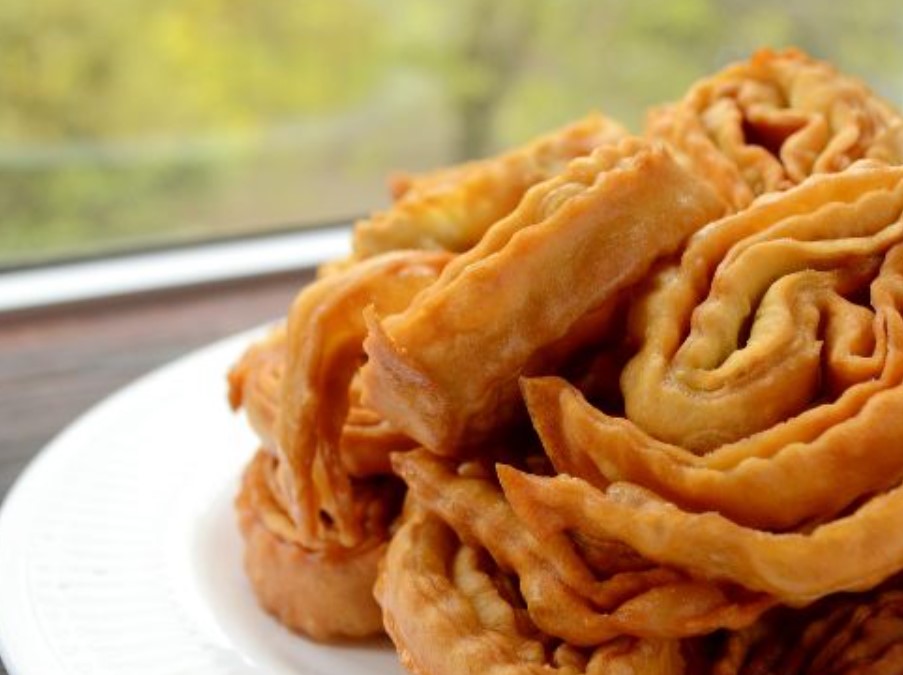 This baklava is called Crimean or "beach" baklava, because it is this type of sweetness that can be found on the beaches of Crimea. It is not difficult to cook Crimean baklava at home, try it and see for yourself.
Ingredients
For the dough:
Egg – 1 pc.
Sour cream – 1 tbsp
Sugar – 1 tbsp
Salt – 1/3 teaspoon
Vodka – 3 tbsp
Wheat flour – 200 g
Soda – 0.5 teaspoon
Butter – 20 g
Vegetable oil for frying – 500 ml
For syrup:
Water – 100 ml
Honey – 2 tbsp
Sugar – 4 tbsp
Directions
Prepare all the ingredients for making the dough.

In a deep bowl, combine flour, sugar, salt and baking soda. Make a depression in the center and beat in an egg, pour in vodka and add a spoonful of sour cream.
Knead the baklava dough. Knead the dough on the table until it stops sticking to the table and to your hands. The dough is tight. If it does not form into a ball, it crumbles – add a couple of tablespoons of water. Cover the dough with a towel or place in a bag and leave on the table for 20 minutes.
Divide the dough into 3 equal sized portions.
Roll each part of the dough very thinly, try not to use flour. Flour can only slightly grind the surface. This is the most time consuming part of making baklava, as the dough is quite tight and you have to work hard.
Brush melted butter onto the first layer of dough. This is necessary so that the layers do not stick together and come apart during frying. Put the rolled second layer of dough on it and grease it again. Lay out the third layer on top
The dough needs to be rolled up with a weak (not tight) roll.
Cut the roll into thin strips with a curly knife or curly wheel. If you do not have this, cut it with the usual, the taste will not suffer from this. Disassemble the layers a little with your hands.
Fry brushwood baklava in heated vegetable oil. Be sure to heat the oil well, then the dough will not absorb it too much.

Allow the seared beach baklava to cool by placing it on a napkin. The napkin will absorb all the excess fat, and the Crimean brushwood will be dry and crispy.
Make a syrup. Heat honey, sugar and water in a saucepan and boil for 10 minutes. Dip each piece in syrup from all sides.
Place the Crimean baklava to dry on a platter or board. Sprinkle with chopped nuts if desired.
Crimean ("beach") baklava turns out to be crispy, moderately sweet and not greasy. For tea – wonderful!
Bon appetit!
Also Like
Comments for "Crimean Baklava ("Beach")"