Caprese Appetizer Salad
by Editorial Staff
Loved by many, the famous Italian Caprese salad. Of course, in our understanding, it is difficult to call it a salad, rather it is a cold antipasto appetizer, but this makes it no less beloved in Russia. Preparing Caprese is very simple, and the taste of the salad is simply amazing. As they say, all ingenious is simple!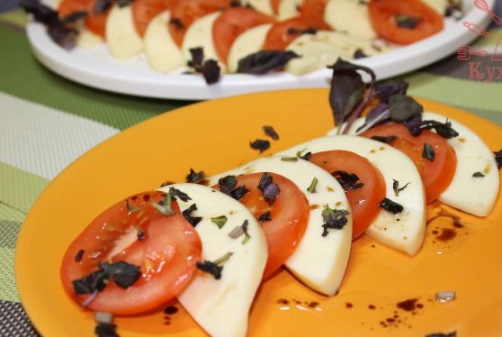 Ingredients
Tomatoes – 550 g
Mozzarella cheese – 550 g
Fresh basil – 1 small bunch
Balsamic vinegar – to taste
Olive oil – to taste
Directions
Cut tomatoes into slices, about 0.5 cm thick.

Cut the mozzarella into the same circles.
Chop the basil (leave a few whole leaves to decorate the salad).
Prepare the sauce – mix olive oil and balsamic vinegar. (You can skip this and pour the salad first with oil and then with balsamic.
Put a piece of cheese on a serving dish, next to it, overlapping, a piece of tomato, again cheese, again a tomato. We do this with all products.
Sprinkle the salad with chopped basil on top and pour over the prepared sauce.

Decorate with basil sprigs and serve.
Bon Appetit! Please yourself and your loved ones!
Also Like
Comments for "Caprese Appetizer Salad"