Dakos (Cretan Appetizer)
by Editorial Staff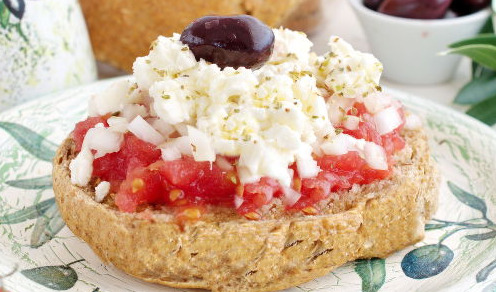 Dakos is a simple dish that is commonly served in taverns in Greece as a snack. It is made from whole grain bread crumbs of the same name – dakos, tomatoes, cheese. Despite its simplicity, it is a fairly satisfying dish.
Ingredients
Whole grain rusks (or dakos) – 1 pc.
Tomato – 1 pc.
Feta cheese – 30 g
Bulb onions – 0.5 pcs.
Olives – 5-6 pcs.
Olive oil – 1 tbsp
Water – 1 tbsp
Oregano – 0.5 teaspoon
Directions
We spread the biscuit on a plate. First of all, we soak it a little with water.
Rub the tomato on a medium grater (only the pulp, discard the peel).
We spread the tomato pulp on a biscuit.
Cut the onions into small cubes.
We spread the chopped onion over the tomatoes.
Cut the feta cheese into smaller pieces by hand.
We spread the cheese in a slide on the rest of the ingredients.
Sprinkle the cheese liberally with dried oregano, pour olive oil over the top of the snack. IMPORTANT: since feta is quite salty, you don't need to salt the dakos.
Decorate the prepared Greek (Cretan) Dakos appetizer with olives, you can put a few olives on a plate, and serve the dakos to the table.
Enjoy your meal!
Also Like
Comments for "Dakos (Cretan Appetizer)"