Gyuvech Bulgarian
by Editorial Staff
A very tasty second dish is meat stewed with vegetables. Moderately spicy.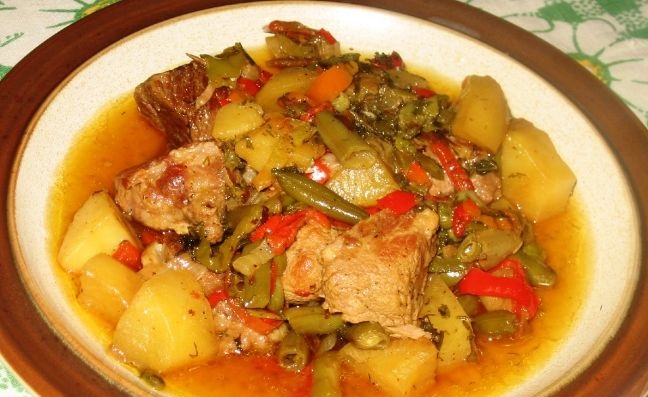 Cook: 1 hour 50 mins
Servings: 5
Ingredients
Semi-fat pork (hip, neck) – 500 g
Vegetable oil – 4 tbsp
Bulb onions – 2 pcs.
Salt to taste
Ground red pepper – to taste
Ground black pepper – to taste
Green peas (fresh or frozen) – 0.5 cups
Potatoes – 4-5 tubers
Bulgarian pepper, medium size – 4-5 pcs. (I have frozen peppers)
Green beans (fresh or frozen) – 250 g
Parsley greens – 1 small bunch
Directions
Cut the meat into large pieces and fry in a pan until golden brown in half the butter. Salt and pepper with black pepper. Put the meat on a plate.

Cut the potatoes into large cubes, cut the onions into large quarter rings. Add the remaining oil to the pan and sauté the onion on it until transparent. Then add the potatoes. For 10 minutes, stirring, fry the potatoes.
Add the seedless pepper, cut into strips. Simmer until the pepper softens (5 minutes).

Add the peas and beans. Simmer for 7 minutes.
Salt and pepper with red pepper.
Put the meat on the bottom of a large pot (or a thick-walled pan suitable for the oven), on top – vegetables. Sprinkle with chopped parsley. Fill with 1-2 cups of hot water so that the water does not reach the edge of vegetables by 1-1.5 cm. Cover with a lid and put in the oven for 1 hour at 180 degrees.
Ready Gyuvech
Enjoy your meal!
Also Like
Comments for "Gyuvech Bulgarian"