Qutab (Azerbaijani Chebureki)
by Editorial Staff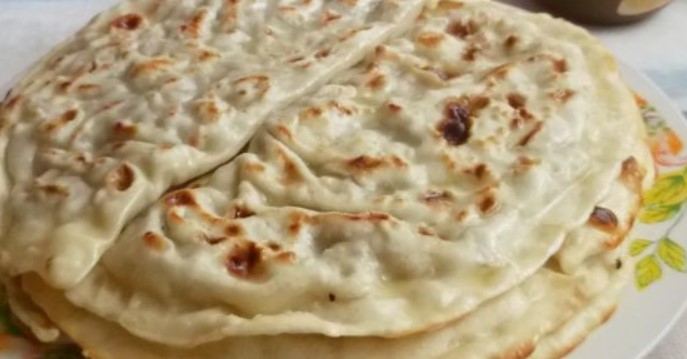 Qutab is a thin dumpling, most often with a filling of fresh herbs or meat. A traditional and very popular dish of Azerbaijani cuisine.
Cook: 1 hr
Servings: 8
Ingredients
For the dough:
Wheat flour – 2 cups
Water – 0.5-0.75 cup
Salt – 1 pinch
Vegetable oil – 1 teaspoon.
For the filling:
Lamb – 400 g
Onions – 2-3 pcs.
Pomegranate (juice) – 2 tablespoon.
Salt – 0.5 teaspoon.
Pepper – 0.25 teaspoon.
Cinnamon – 1 pinch
Butter for greasing – 100-150 g
Sour cream or yogurt when serving – 100-150 g
How to cook qutab (Azerbaijani chebureki):
Directions
Sift the flour into a bowl, add salt, pour in the water.
Knead the dough (if desired, you can add a teaspoon of vegetable oil or a little less to the dough).
Knead the dough thoroughly, cover it with a towel, and set it aside for 20-30 minutes.
Chop the lamb meat finely or put it through a meat grinder.
Chop the onions.
Add salt and pepper to the meat and onions, mix everything well. Add the pomegranate juice (or barberries). You can sprinkle the mass with cinnamon (if desired).

Mix everything thoroughly.
Divide the dough for qutab into small matchbox-sized pieces.

Roll these pieces out as thinly as possible. The circles should be about 20 cm in diameter.
Put 1 tablespoon of the filling on each circle and spread it evenly over one half of the circle. Wrap the qutab in a crescent shape and stick the edges together.
Fry the qutab in a heated cast-iron frying pan over medium heat. You can bake the qutab in a dry pan under a lid or fry it in a lightly oiled pan as for pancakes. First, fry it for 2 minutes on one side.
When the qutab gets brown, flip it over, and fry for another 1.5 minutes on the other side.

Place the cooked qutab on a plate and brush it with butter. Wrap the plate with a plastic bag to make the qutab soft.
The qutab (Azerbaijani chebureki) is done. Serve it with natural yogurt or sour cream.
Also Like
Comments for "Qutab (Azerbaijani Chebureki)"