Lenten Rassolnik with Mushrooms
by Editorial Staff
A very tasty lenten soup. It can be cooked with any mushrooms, but let's look at the recipe with champignons.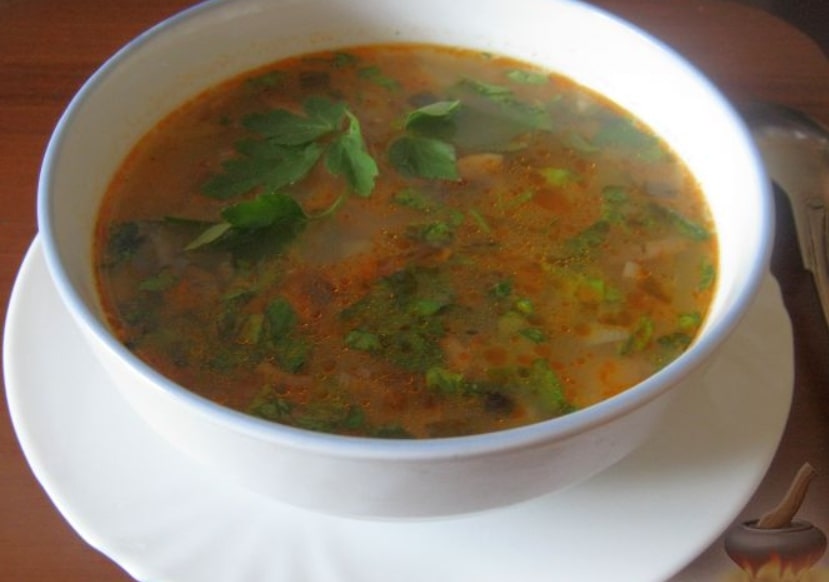 Cook: 50 mins
Servings: 8
Ingredients
Potatoes – 2-3 pcs.
Pickled cucumbers – 2-3 pcs.
Mushrooms (champignons) – 300 g
Rice – 0.5 cups
Carrots – 1 pc.
Onions – 1 pc.
Tomato paste – 1-2 tablespoon.
Vegetable oil – 30 g
Sugar – 1 teaspoon.
Salt – to taste
Pepper – to taste
Bay leaf – 1 pc.
Peppercorns – 5-7 pcs.
Fresh herbs – to taste
How to cook a lenten rassolnik with mushrooms:
Directions
Cut the carrot into thin sticks or grate it on a coarse grater.
Cut the onion into small pieces.
Cut the mushrooms into thin slices.

Dice the potatoes and pickled cucumbers.
Boil 2.5 liters of water. Place the potatoes, rice, half the onion and carrot in boiling water. Boil for 15-20 minutes.
Heat a frying pan, pour vegetable oil. Place the remaining onion and carrot pieces in the hot oil. Stew on medium heat stirring for 2-3 minutes.
Add the mushrooms, stew all together for 3-5 minutes, and stir. Then add the tomato paste and stir.

Add the pickled cucumbers and stir.
Pour 0.3 cups of the vegetable broth from a pot into the frying pan. Stew for 5 minutes.

Put the fried-up stuff into the pot. Add salt, pepper, sugar, peppercorns, and a bay leaf. Simmer the rassolnik with mushrooms under the lid slowly for 10 minutes.
Then leave your rassolnik to infuse for 20 minutes. Chop the herbs and add them to the soup.
Enjoy your meal!
Also Like
Comments for "Lenten Rassolnik with Mushrooms"