Rassolnik with Rice and Tomatoes
by Editorial Staff
Rassolnik with rice and tomatoes is a thick and filling soup. These tomatoes give this first dish a pleasant sourness. Cook such a soup with rice, tomatoes, and pickles for your family.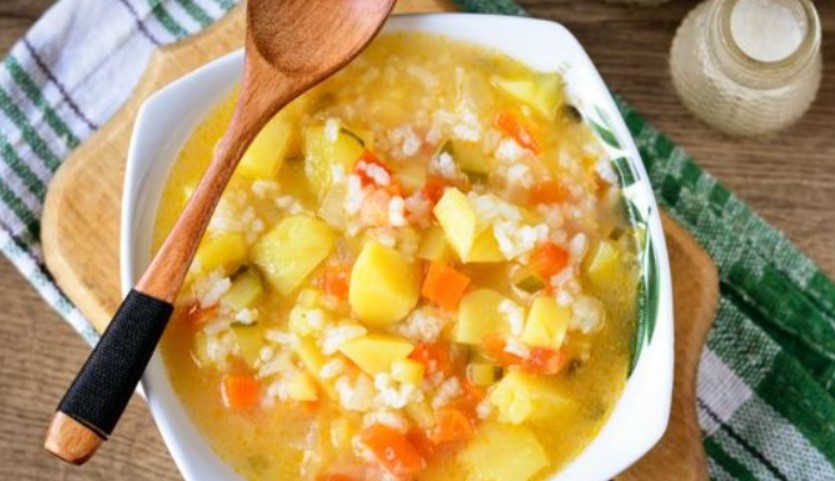 Ingredients
Chicken back and wings – 200 g
Potatoes – 200 g
Rice – 80 g
Tomatoes – 80 g
Pickles – 80 g
Onions – 70 g
Carrots – 70 g
Vegetable oil – 2 tablespoon.
Salt – to taste
Pepper – to taste
Water – 1.5 l
Directions
Pour the chicken meat with cold water in a pot, bring it to a boil, and skim the scum. Salt and cook the broth slowly for 20-30 minutes.
Cut the potatoes into medium dice, put them in the broth, and cook for 10-12 minutes.
Cut the carrot and onion into small dice.
Heat the vegetable oil in a frying pan. Fry the carrots and onions until soft for 7-10 minutes.

Rinse the rice. Put the vegetables and rice into the pot. Cook for 10 minutes.
Dice the tomatoes.

Dice the pickles and put them into the pot.

Add the tomatoes and cook the soup for 5-7 minutes. Add some pepper to taste. Stir the soup and turn off the heat.
Enjoy your meal!
Also Like
Comments for "Rassolnik with Rice and Tomatoes"