Pork Kebab in the Form of Rolls
by Editorial Staff
An original way of making meat rolls barbecue. Pork kebab in the form of rolls is not so much a recipe for a kebab, with a constant and unchanged composition, but a way of cooking it.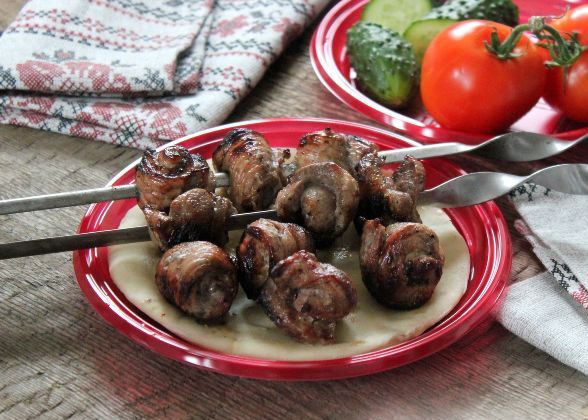 Ingredients
Pork leg – 0.5 kg
Pork neck – 0.5 kg
Balsamic vinegar – up to 2 tablespoons
Black peppercorns (chopped) – 1 teaspoon
Allspice peas (chopped) – 1 teaspoon
Salt – 2 pinches
Directions
Cooking pork kebabs in the form of rolls will be shown using the example of pork neck and pork ham. The marinade is balsamic vinegar and the spices are black and allspice.

If you do not have a mortar for grinding spices, but you want to get fresh and fragrant ones, then use an ordinary glass. Crush the peppercorns with the flat bottom on a cutting board.
Peel a piece of pork ham from excess fat and films. Then cut into thin strips 0.5-0.7 cm thick and 10-15 cm long.
Sprinkle or brush the surface of the meat with balsamic (or any other marinade of your choice). Sprinkle with ground pepper, black and allspice and lightly salt. Prepared meat strips need to be rolled into rolls.

You do not need to clean the pork neck from excess pieces of fat, because it is distributed in even layers. This gives juiciness to any kind of shashlik from the neck. Brush with balsamic vinegar, sprinkle with two kinds of pepper and lightly salt.
Place the prepared meat rolls in a container or other suitable dish for at least an hour, or simply for the time during which the coals in the grill will be cooked.
Place the meat rolls on skewers and grill the pork kebabs on the grill over hot coals until fully cooked (when cutting, the meat should be free of blood).

Serve ready-made pork skewers in the form of rolls with fresh vegetables or salads from them, with pickled onions, on pita bread or bread cakes, with sauces to your taste.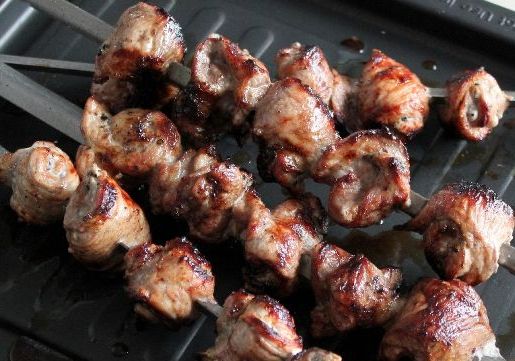 Bon Appetit!
Also Like
Comments for "Pork Kebab in the Form of Rolls"