Okroshka classic
by Editorial Staff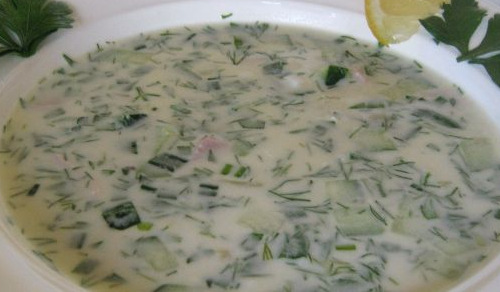 The recipe for classic okroshka suggests preparing a traditional dish of Russian cuisine – cold soup with kvass. Okroshka comes with kefir, mineral water, etc. But classic okroshka is prepared only with kvass. This requires not sweet, but white bread kvass.
Cook: 30 minutes
Servings: 4
Ingredients
kvass for okroshka bread 1.5 l
boiled meat (beef) 300 g
cucumbers 3-4 pcs.
potatoes 4 pcs.
eggs 4 pcs.
green onions 10-15 g
dill greens 10 g
parsley 10 g
sour cream 2 cups
salt (to taste) 0.5 teaspoon
sugar (to taste) 0.25 teaspoon
mustard (sauce) 0.5 teaspoon
Directions
Potatoes with eggs (eggs can be cooked separately, this is optional) put in a saucepan, pour cold water, and put on medium heat. Bring to a boil, reduce heat and simmer for 8-10 minutes. Remove the eggs, transfer to cold water, and continue to cook the potatoes until soft, another 10 minutes.
While the eggs and potatoes are boiling, cut the boiled meat into cubes.
Finely chop the dill
Chop the parsley finely.
Cut the cucumbers into small cubes.
Finely chop the green onion.
Grind the chopped green onions with a little salt until the juice appears.
Peel and dice the eggs.
Put the finished potatoes in cold water for a couple of minutes, and then remove from the water, peel, and cut into cubes.
Combine all chopped ingredients except parsley and dill in a large saucepan or bowl. (Optionally, add chopped radish to okroshka.) Season with sour cream and mix well.

Pour in kvass. Add dill, parsley, sugar, mustard, salt, and stir.
Enjoy your meal!
Also Like
Comments for "Okroshka classic"