Okroshka "Light" with Lemon Water
by Editorial Staff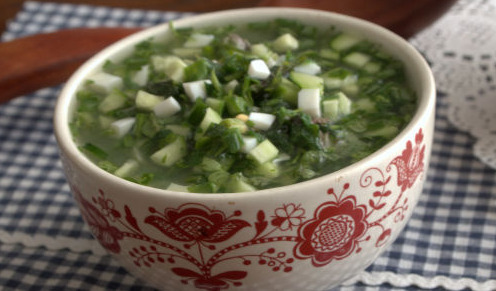 Very simple, tasty, and healthy light okroshka. The main ingredient in this cold soup is greens, which are ground with salt for juiciness. Okroshka is prepared on the basis of water with lemon juice and acquires a pleasant taste with a slight sourness.
Cook: 10 minutes
Servings: 2
Ingredients
Greens (nettle, dandelion leaves, arugula, mint, parsley, green onions) – 150 g
Cucumber – 1 pc.
Boiled egg – 1 pc.
Lemon – 1 pc.
Water – 500 ml
Salt – 0.25 teaspoon
How to cook light okroshka in water with lemon juice:
Directions
Introduce lemon juice into purified (boiled) water.
Chop the green onion feathers and place them in a bowl.
Fill the leaves of the nettle and dandelion with boiling water. This way we can remove excess bitterness from them.
Shred the rest of the greens with a sharp knife, add them to the total mass. We extract dandelions and nettles from the water. Squeeze and cut into small pieces, add to the blank for okroshka. Then add salt.
We knead it with a crush.
In the next step, add the chopped fresh cucumber to the bowl.
Add the chopped boiled egg.
Mix all the ingredients for okroshka until the mass becomes homogeneous. Pour lemon water to cover the entire salad.

Light okroshka in water with lemon juice is ready. Cool okroshka for 20-30 minutes.
Enjoy your meal!
Also Like
Comments for "Okroshka "Light" with Lemon Water"