Okroshka on the Water
by Editorial Staff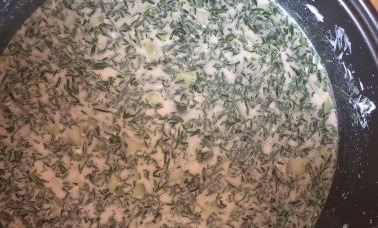 Okroshka on water and mayonnaise. With sausage, eggs, vegetables. Delicious, fast. 🙂
Cook: 40 minutes
Servings: 6
Ingredients
Potatoes – 2 pcs.
Fresh cucumbers – 2 pcs.
Onions – 1/4 pcs.
Sausage (boiled) – 300 g
Eggs – 4 pcs.
Mayonnaise – to taste
Water – 1-1.5 l
Vinegar – 0.5 tbsp
Salt to taste
Directions
Boil eggs hard-boiled. Cook the potatoes in their uniform. Cut the eggs into small cubes.
Cut the cucumber into small cubes.
Cut the sausage into small cubes.
Finely chop the onion (I used one-fourth of a small onion). You can replace onions with green onions.
Chop the greens finely.
We mix all the ingredients of okroshka, salt. Add mayonnaise and mix well. (I used a 3-liter saucepan.)

Fill okroshka with mayonnaise with cold water. The amount of water depends on how thick you like okroshka. It took me 1-1.5 liters. Add vinegar, about half a tablespoon. Mix okroshka with sausage, eggs, and vegetables and remove okroshka in water in the refrigerator to cool.
Enjoy your meal!
Also Like
Comments for "Okroshka on the Water"