Okroshka on Kvass with Mustard
by Editorial Staff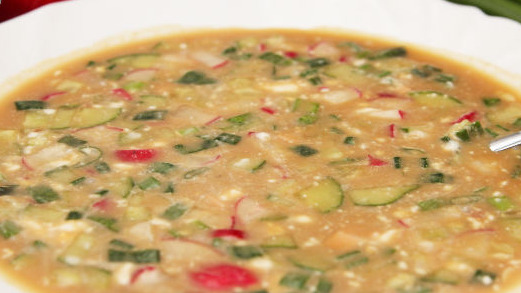 Okroshka is one of the favorite refreshing dishes in the summer season! How can you make okroshka even tastier ?! I'll give you a hint.
Cook: 20 minutes
Ingredients
Large cucumber – 1 pc.
Radish – 100 g
Boiled sausage (or chicken, or beef) – 150 g
Boiled potatoes – 1 pc.
Boiled eggs – 5 pcs.
Sour cream – 2 tbsp
Green onions – 3 pcs.
Mustard – to taste
Salt to taste
Kvass
Directions
Chop all the necessary ingredients into small cubes.
Instead of sausage, you can take boiled beef or chicken. I have a classic version today.
Finely chop the greens. Ideally, okroshka should also contain dill and parsley.
We mix all the finished ingredients with each other.
Add a couple of tablespoons of sour cream so that the potatoes do not turn black in the salad bowl.
I don't salt the salad itself is a common dish, I don't season it with sour cream, and even more so I don't fill it with kvass. All this is done immediately before use. I also add mustard to my portion of okroshka, it gives the dish a special zest! Try it if you have never done this before!
Enjoy your meal!
Also Like
Comments for "Okroshka on Kvass with Mustard"