Okroshka on Kvass, with Pork, Sausage and Basil
by Editorial Staff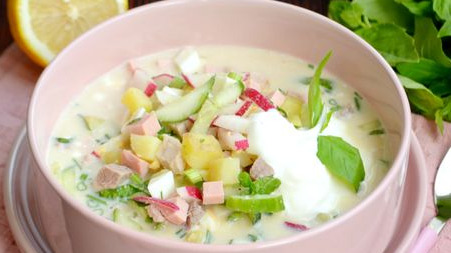 If you like okroshka on kvass, then you will love the version of the cooling summer first course, to which fresh basil is added – it gives additional freshness and a new taste to the dish loved by many. Another distinctive feature of the dish is that the potatoes are not boiled whole, but cut into pieces before that. This will cook it faster and keep its shape better.
Cook: 1 hour
Servings: 6
Ingredients
Pork – 200 g
Boiled sausage – 200 g
Green basil – 1 bunch
Potatoes – 300 g
Cucumbers – 2-3 pcs. (300 g)
Radish – 200 g
Eggs – 4 pcs.
Green onion – 3-4 feathers
Fresh parsley – 3-4 sprigs
Salt – 1 teaspoon

For refueling:

Kvass – 500 ml
Lemon (juice) – 2 tbsp
Mustard – 1 tbsp
Sour cream – 4-5 tbsp
Directions
In a saucepan, bring 1 liter of water to a boil and dip the pork in it. Bring to a boil again and cook the meat over medium heat for 40 minutes, until tender. Remove cooked meat and set aside to cool.
Pour the eggs with cold water and boil for 9-10 minutes after boiling, hard-boiled. Then transfer to cold water and cool.
Peel and dice the potatoes.
Bring water in a saucepan to a boil, place the sliced ​​potatoes in boiling water and cook for 8-10 minutes. Thanks to this method of cooking, the potatoes will cook faster, will keep the shape of a "cube" and will not stick together.
Cut the cucumbers and radishes into thin cubes.
Cut the boiled sausage into cubes.
Finely chop the green onions, fresh parsley, and basil with a knife.
Peel and cut the eggs into small cubes.
Cut the boiled pork into cubes the same size as the sausage.
Throw the potatoes in a colander, cool completely.
Combine cucumbers, radishes, eggs, sausage, pork, potatoes, parsley, green onions, and basil in a saucepan. Add salt, stir and refrigerate to cool the okroshka base completely.

For refueling, take kvass (you can use your favorite store kvass, I have homemade kvass), mustard, sour cream, and lemon juice. Adjust the presence and quantity of each ingredient for dressing to your liking.
Combine kvass, mustard, sour cream in a jar and squeeze the lemon juice into it. Close the jar with a lid and shake everything to connect.

Put the chilled vegetable and meat base on a serving plate, add the dressing.
Add sour cream to taste and garnish okroshka with fresh basil. Okroshka with kvass, pork, sausage, and basil, ready.
Enjoy your meal!
Also Like
Comments for "Okroshka on Kvass, with Pork, Sausage and Basil"