Okroshka on Kvass, with Sausage, Cucumbers and Radish
by Editorial Staff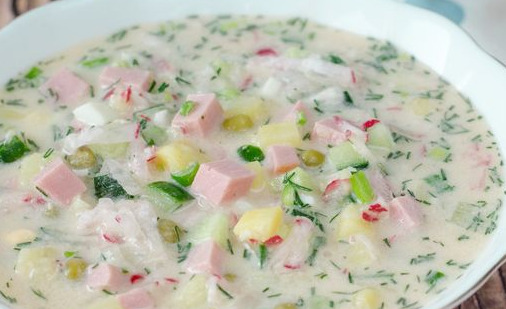 It's time for hot days, which requires the housewives to revise the usual menu in favor of refreshing dishes. And, of course, it is worth remembering about okroshka. Delicious, refreshing, on aromatic kvass, it will certainly take pride of place on your table. All the ingredients are simple and affordable, the cooking method is elementary, and the effect is amazing.
Cook: 1 hour
Servings: 5
Ingredients
Potatoes – 2 pcs.
Fresh cucumbers – 2-3 pcs.
Boiled sausage – 200 g
Eggs – 4 pcs.
Radish – 200 g
Canned green peas – 1 can (420 g)
Fresh dill – 3 branches
Green onions – 3 pcs.
Sour cream – 5 tbsp
Mustard – 2 tbsp
White kvass (for okroshka) – 1-1.5 l
Salt to taste
Ground black pepper – to taste
Directions
Pour potatoes with water, cook until tender (25-30 minutes over medium heat), and cool.
Boil the eggs hard-boiled, 10 minutes after boiling over medium heat. Then fill the eggs with cold water to cool.
Cut the sausage into cubes.
Cut the cucumbers into cubes as well.
Cut off the "tails" of the radish. Rub the radish on a coarse grater.
Finely chop the onion and dill.
Peel the boiled eggs and cut them into cubes.
Peel and dice the cooled boiled potatoes.
Combine cucumbers, sausages, eggs, radishes, peas, herbs, and potatoes in a convenient bowl.
Add sour cream and mustard. Salt and pepper to taste.
We mix.

Pour the contents of the bowl with 3-4 glasses of kvass and let it brew for 15-20 minutes.
Enjoy your meal!
Also Like
Comments for "Okroshka on Kvass, with Sausage, Cucumbers and Radish"