Okroshka in Meat Broth
by Editorial Staff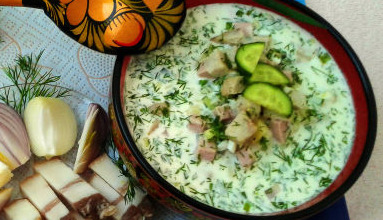 So … let's start … Maybe someone will find such a gas station strange … But! Having tried many types of okroshka, I realized that this is now my favorite! I'll make a reservation right away – I never weigh products! I do everything, so to speak, "by eye".
Ingredients
Chilled meat broth
Boiled meat (chicken breast or lean pork)
Fresh cucumbers
Radish (optional)
Boiled potatoes
Boiled eggs
Boiled ham or sausage (a little)
Greens (dill and green onions)
(I also add regular onions)
Mayonnaise (for lovers – sour cream)
Salt
Sugar
Mustard
Lemon acid
Directions
First, let's prepare the meat and broth. Boil chicken breast, or a piece of lean pork until tender. You can throw a whole peeled onion into the broth. Then take out. Salt a little. And cool the broth completely. I cool the broth with the meat, so it turns out juicier. When the broth is well cooled, white droplets of frozen fat may appear on the surface (not always, of course), it all depends on the type of meat. Fat should be carefully removed. I just filter the broth through a fine sieve. That's it, the broth is ready.
Now slicing. Cut the ham, boiled meat, cucumbers, potatoes, and eggs into equal medium cubes. Finely chop the onion and dill.
We fill okroshka. First, mix okroshka with mayonnaise (or sour cream), salt a little (then we will regulate the salt at the end since we salted the broth), mix, and gradually start adding the broth. Stir constantly. Add the broth to the desired density. With this dilution sequence, there will be no "ugly" grains of mayonnaise on the surface. Now we add citric acid to taste (I love it with acid), well, maybe someone is missing – sugar and mustard.
Enjoy your meal!
Also Like
Comments for "Okroshka in Meat Broth"