Okroshka Meat in Russian
by Editorial Staff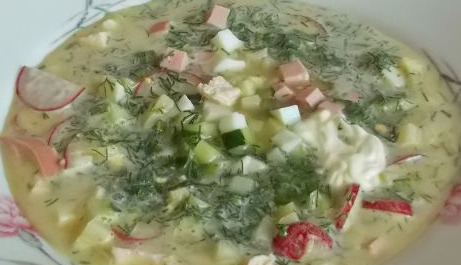 A favorite national dish that will both saturate and cool on a hot summer day is okroshka in Russian.
Cook: 30 minutes
Servings: 4
Ingredients
Bread kvass – 1 l
Boiled meat (or meat + boiled sausage) – 250 g
Cucumbers – 2 pcs.
Radish (1 bunch) – 8-10 pcs.
Boiled potatoes in a peel – 2 pcs.
Eggs (hard-boiled) – 2-3 pcs.
Green onions – 150 g
Dill – 0.25 bunch
Sour cream (to taste) – 5-6 tbsp
Mustard (to taste) – 1-2 teaspoon
Salt (to taste) – 0.5-1 teaspoon
Sugar (to taste) – 1-2 teaspoon
Directions
Cut meat or sausages, sausages, small sausages into cubes.
Wash cucumbers and cut them into cubes.
Peel and dice the potatoes.
Radish – thin slices.
Finely chop the dill and onion.
Then grind the dill and onion with salt.
Peel the eggs and separate the whites from the yolks.
Finely chop the egg whites.
Combine and mix all prepared ingredients. Arrange on plates.

Grind the yolks with a part of sour cream (2 tablespoons), sugar, mustard.
Gradually, rubbing all the time, dilute with kvass (0.5 cups).

Top up the remaining kvass and add the grated herbs. Mix.
Pour this mixture over all cooked and distributed food on plates. In each plate, add 1 tablespoon. a spoonful of sour cream.
Enjoy your meal!
Also Like
Comments for "Okroshka Meat in Russian"