Khorovats from Vegetables
by Editorial Staff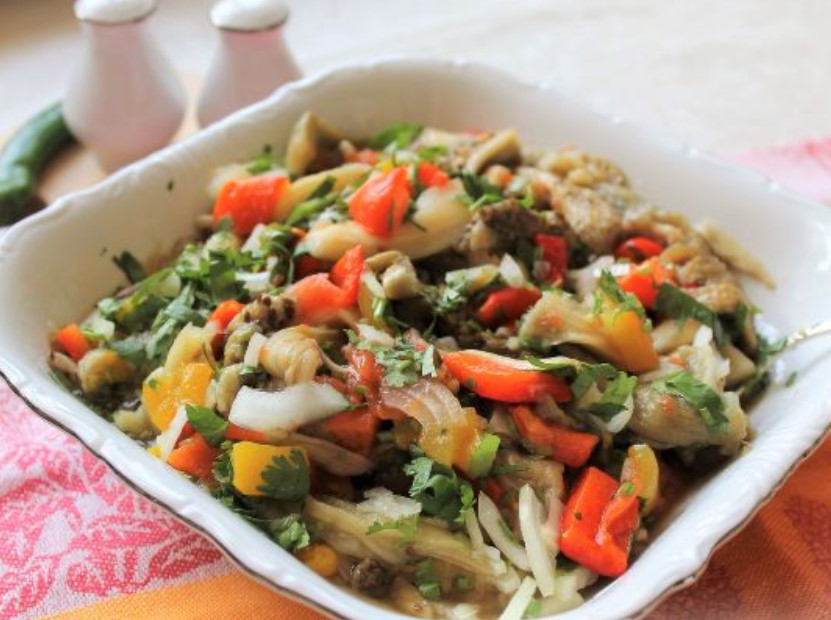 Khorovats is not only an Armenian kebab, but also a dish of baked vegetables. Vegetable khorovats is a healthy dietary dish, as it is prepared without adding oil and without frying the ingredients.
Ingredients
Eggplant – 3 pcs.
Red bell pepper – 1 pc.
Bulgarian yellow pepper – 1 pc.
Tomatoes (cream) – 3 pcs.
Bulb onions – 2 pcs.
Cilantro greens – 50 g
Fresh hot pepper – 1 pc.
Salt – 20 g
Hot red pepper – to taste
Directions
To prepare the vegetable khorovats, we prepare the necessary ingredients.

Wash the vegetables under running water.
Put the eggplants and peppers on a baking wire rack and put them in the oven. Eggplant should be lightly chopped with a fork so that the skin does not burst and the eggplant pulp does not scatter over the oven
While the vegetables are baking, rinse the cilantro herbs thoroughly under running water.
Spread the herbs on a napkin to dry.
We check the readiness of the vegetables with a fork. When they are baked enough, take them out of the oven and cool.
Put tomatoes and onions on a baking wire rack. We bake the onion in the husk.
Let's take care of eggplant and pepper. Carefully remove the skin from the vegetables, but do not remove the tail from the eggplant – it is convenient to hold it by the dry tail and remove the skin.
We do the same with pepper.
Cut the eggplant lengthwise into thin strips and then cut these strips into small pieces of about 5-6 cm.
Remove the seeds from the pepper and cut it into squares about 3-4 cm.
Put the pepper and eggplant in a mixing bowl.
Tomatoes and onions are ready by this time. We take them out of the oven.
Peel the vegetables.
Chop the tomato to get a homogeneous mass.
Finely chop the onion.

Put all the vegetables in a bowl, and finely chop the cilantro greens on the board.
Thinly chopped hot peppers can be added if desired.
Mix all the ingredients in a bowl, add salt and hot red pepper. Armenian khorovats made of vegetables is ready!
Bon Appetit!
Also Like
Comments for "Khorovats from Vegetables"