Kebabs From Vegetables and Meatballs
by Editorial Staff
Meatballs for these kebabs are prepared with a surprise inside and fried with vegetables on the grill or in the oven.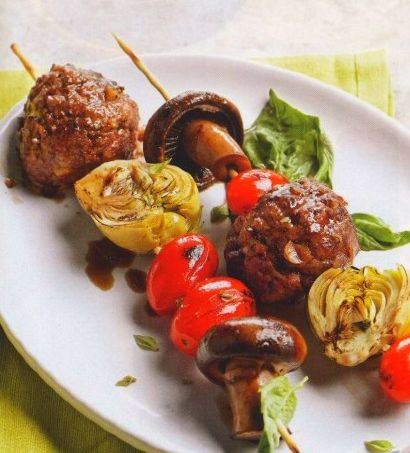 Ingredients
Ground beef – 650 g
Canned artichokes (cut in half) – 230 g
Creamy tomatoes – 2 cups
Champignon mushrooms – 230 g
Parmesan cheese (shredded on a grater) – 1/3 cup
Ham (finely chopped) – 60 g
Fontina cheese or similar (cut into 1 cm cubes) – 50 g (16 cubes)
Egg (slightly beaten) – 1 pc.
Garlic (chopped) – 2 cloves
Italian herbs (crumbled) – 1 teaspoon
Salt – 1/2 teaspoon.
Ground black pepper – 1/8 teaspoon.
Vegetable oil for grilling grill
Balsamic vinegar – 1/3 cup
Olive oil – 2 teaspoon
Garlic (minced) – 1 clove
Salt – 1/4 teaspoon.
Italian herbs (crumbled) – 1/4 teaspoon
Ground black pepper – 1/8 teaspoon.
Basil leaves (optional)
Directions
In a small saucepan, combine all the ingredients for the sauce, put on medium heat, bring to a boil, reduce heat and simmer, uncovered, for about 4 minutes (about 1/4 cup of sauce should remain). Soak 16 wooden sticks, 23 cm long in cold water.
In a large bowl, combine egg, Parmesan, garlic, Italian herbs, salt and pepper. Put minced meat and ham into this mass, mix well. Divide the minced meat into 16 equal parts, put a cube of Fontina cheese in the center of each and wrap it in a ball. On soaked wooden sticks, string meat balls, artichokes, mushrooms and tomatoes in turn, leaving a distance of 0.5 cm between them.
Turn on an outdoor grill or oven with grill function to preheat to medium temperature. Grease the wire rack with oil. Put the kebabs on an oiled wire rack, grease with prepared sauce and fry, occasionally turning over and greasing with sauce, for about 10-12 minutes.
Serve the kebabs with the remaining sauce, garnished with basil leaves (optional).
Also Like
Comments for "Kebabs From Vegetables and Meatballs"