Vegetable and Shrimp Kebabs
by Editorial Staff
Grilled vegetables and shrimp are light and healthy kebabs that are quick and easy to prepare.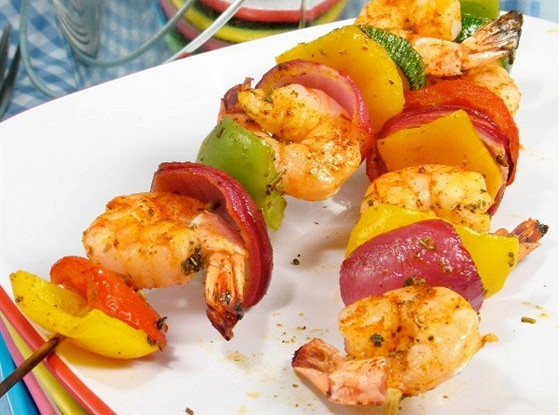 Servings: 4
Ingredients
Fresh shrimps (peeled) – 450 g
Yellow zucchini (cut into slices 2.5 cm thick) – 2 pcs.
Cherry tomatoes – 8 pcs.
Bulgarian green pepper (cut into pieces of 2.5 cm) – 1 pc.
Fresh parsley (chopped) – 1 tbsp
Dried basil (crumbled) – 1 teaspoon
Medium-sized champignon mushrooms – 8 pcs. (optional)
Cooked rice for garnish – 2 cups (optional)
For Italian dressing:
White wine vinegar – 1/4 cup
Fresh parsley leaves (chopped) – 2 tbsp
Fresh oregano (chopped) – 1 tbsp
Olive oil – 2 tbsp
Salt – 1/4 teaspoon.
Ground black pepper – 1/8 teaspoon.
Garlic (chopped) – 2 cloves
Directions
Prepare an Italian salad dressing. To do this, combine all the ingredients for dressing in a large deep bowl and whisk lightly. Take 1/2 cup of the total mass, and cover the rest and refrigerate, use it at your own discretion (such a dressing can be stored in the refrigerator for up to 5 days). Turn on the grill to preheat to medium heat.
In a small bowl, combine 1/2 cup Italian dressing, parsley, and basil. On 8 metal skewers, string vegetables, mushrooms and shrimps in turn. Place the kebabs on the grill rack and cook, uncovered, for about 3 minutes, turning the kebabs over once. Then grease the kebabs on all sides with dressing and cook, turning, about 3-4 minutes.
Serve vegetable and shrimp kebabs with hot rice (optional).
Also Like
Comments for "Vegetable and Shrimp Kebabs"