Grilled Vegetable Kebabs
by Editorial Staff
The vegetables should first be marinated in a sweet marinade and then grilled.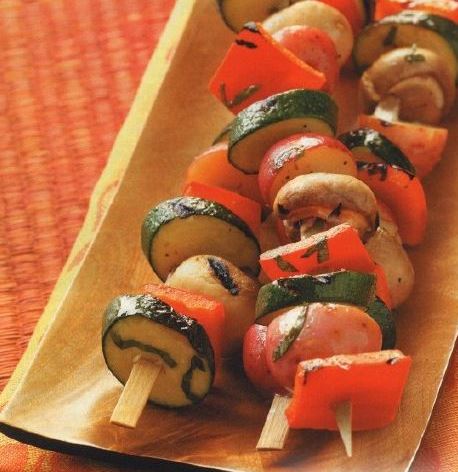 Servings: 4
Ingredients
Small red potatoes (cut into halves) – 8 pcs.
Apple juice – 3 tbsp
Red wine vinegar – 3 tbsp
Fresh basil (finely chopped) – 2 tbsp
Dijon mustard – 1 tbsp
Liquid honey – 1 tbsp
Soy sauce – 1 tbsp
Olive oil – 2 teaspoon
Ground black pepper – 1/4 teaspoon.
Fresh champignons – 12 pcs.
Bulgarian red pepper (peeled from seeds and cut into pieces) – 1 pc.
Medium zucchini (sliced) – 1 pc.
Directions
Steam the potatoes until soft, but do not overcook.
In a large zippered plastic bag, combine apple juice, vinegar, basil, mustard, honey, soy sauce, oil, garlic and black pepper. Put mushrooms, red pepper, zucchini and boiled potatoes in a bag with dressing. Fasten the bag and shake well, put in the refrigerator for 2 hours.
Grease the grill grate with vegetable oil and turn on the grill to preheat to medium temperature. Remove the vegetables from the marinade and string them in turn on 4 metal or wooden sticks. Place the kebabs on the oiled wire rack.
Close the grill and cook the kebabs for 10-15 minutes, periodically turning the kebabs and brushing with marinade.
Also Like
Comments for "Grilled Vegetable Kebabs"