Grilled Chicken Kebabs
by Editorial Staff
Chicken meat is marinated in a spicy, milk marinade, which makes chicken kebab tender and aromatic.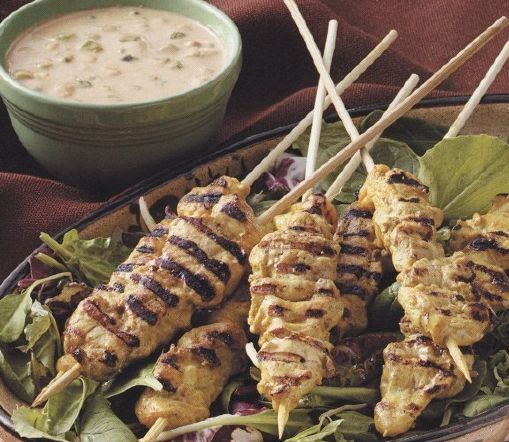 Servings: 8
Ingredients
Chicken fillet – 1 kgMilk – 1/2 cup
Garlic (peeled and minced) – 6 cloves
Brown sugar – 1 tbsp
Ground coriander – 1 tbsp
Ground turmeric – 1 tbsp
Ground cumin – 1 tbsp
Salt – 1 teaspoon
White pepper – 1 teaspoon
Peanut butter – 1/3 cup
Milk – 1/3 cup
Green onions (finely chopped) – 2 pcs.
Jalapeno pepper (seeded and finely chopped) – 1 pc.
Lime juice – 2-3 tbsp
Soy sauce – 2 tbsp
Garlic (peeled and minced) – 1 clove
Sugar – 1 teaspoon
Fresh cilantro (finely chopped) – 1 teaspoon.
Ginger root (peeled and minced) – 1 teaspoon.
Directions
Beat the chicken fillet with a rolling pin and cut into strips about 2.5 cm wide. In a large plastic bag, combine milk, garlic, brown sugar and spices. Put the chicken fillet in this bag with the marinade, shake the bag well so that the meat is completely in the marinade. Put the bag in the refrigerator for 8 hours, or better overnight.
In a bowl, combine all the sauce ingredients. Cover the bowl with cling film and refrigerate until serving. Remove the chicken fillet from the marinade and skewer.
Heat the grill to medium temperature and place the chicken on the wire rack. Fry the chicken skewers for about 2-3 minutes on each side.
Serve the chicken kebab with the sauce.
Also Like
Comments for "Grilled Chicken Kebabs"